News
Gaetz Calls to Censure Judge Overseeing Trump's Election Case for 'Open Bias and Partisanship'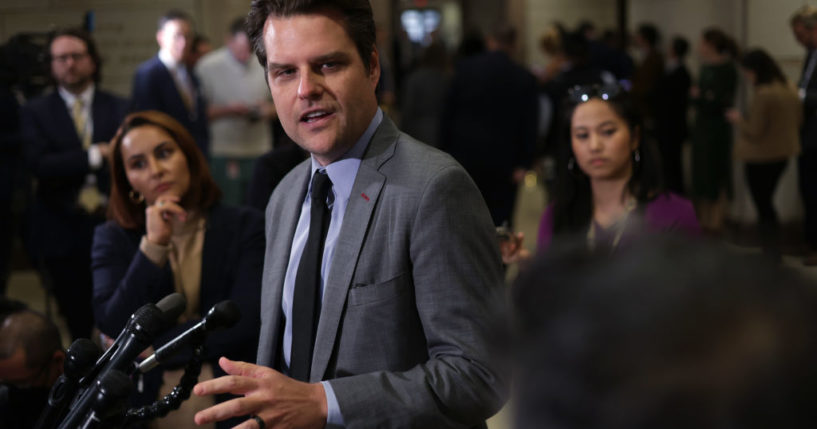 Rep. Matt Gaetz (R-Fla.) is calling for Congress to take action against the judge overseeing former President Donald Trump's criminal case in Washington, D.C.
In a press release on Friday, Gaetz announced he would introduce a resolution to censure U.S. District Court Judge Tanya Chutkan, who is presiding over Special Counsel Jack Smith's criminal case against Trump for his alleged efforts to overturn the 2020 election.
"Tanya Chutkan was appointed as a district judge for the United States District Court for the District of Columbia by President Barack Obama after donating thousands of dollars to get him elected," the press release stated.
Advertisement - story continues below
It added, "During her time on the bench, Judge Chutkan has inappropriately expressed support for violent protests that occurred in the summer of 2020, all the while handing down multiple tough sentences to non-violent January 6th defendants."
READ my full press release here:https://t.co/gs78Gvxt2D pic.twitter.com/8oBBx7kYut

— Rep. Matt Gaetz (@RepMattGaetz) August 18, 2023
Chutkan has previously argued defendants from the Black Lives Matter protest should not be compared to Jan. 6 defendants.
According to Politico, when asked about the defendants in the two different types of cases, Chutkan said, "People gathered all over the country last year to protest the violent murder by the police of an unarmed man. Some of those protesters became violent."
Advertisement - story continues below
"But to compare the actions of people protesting, mostly peacefully, for civil rights, to those of a violent mob seeking to overthrow the lawfully elected government is a false equivalency and ignores a very real danger that the January 6 riot posed to the foundation of our democracy," she added.
Politico also pointed out she has a history of delivering harsh sentences to Jan. 6 defendants.
Gaetz argued, "It is deeply concerning that a United States District Court judge would exhibit such blatant political bias from the bench."
"Judge Tanya Chutkan's extreme sentencing of January 6th defendants, while openly supporting the violent Black Lives Matter riots of 2020, showcases a complete disregard for her duty of impartiality and the rule of law. Justice may be blind, but the American people are not – we see Judge Chutkan for her actions, and we rebuke them in the greatest possible sense," he continued.
In a post on Truth Social earlier this month, Trump claimed Chutkan is "highly partisan," "very biased and unfair," and he insisted she "obviously wants me behind bars."
Truth and Accuracy
We are committed to truth and accuracy in all of our journalism. Read our editorial standards.
Comment Down Below
Conversation