News
Garland Appoints Special Counsel to Investigate Biden's Handling of Classified Documents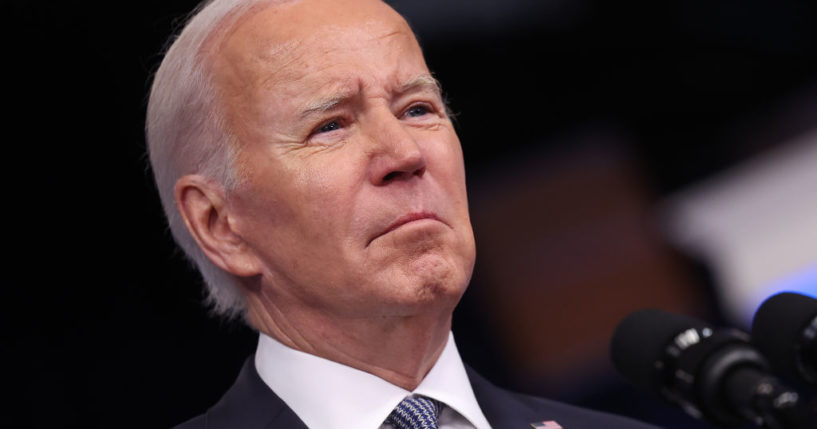 Attorney General Merrick Garland is appointing a special counsel to examine President Joe Biden's handling of classified documents.
Garland issued a statement on Thursday announcing his decision. It came days after it was reported a U.S. attorney was reviewing roughly 10 documents from Biden's time as vice president found at the Penn Biden Center for Diplomacy and Global Engagement in Washington, D.C.
Another batch of documents was found in the garage of the president's Wilmington, Delaware, home, and an adjacent room, IJR reported.
Advertisement - story continues below
"I am here today to announce the appointment of Robert Hur as a special counsel pursuant to Department of Justice regulations governing such matters," Garland said.
He added, "In keeping with those regulations, I have today notified the designated members of each house of Congress of the appointment."
Watch the video below:
AG Merrick Garland says he is appointing a special counsel to investigate the Biden classified documents case at the advice of U.S. Attorney John Lausch, who has been looking into the matter since November. pic.twitter.com/rcpt3wnqK7

— The Recount (@therecount) January 12, 2023
Advertisement - story continues below
Garland revealed the National Archives of Inspector General contacted the Department of Justice about the discovery of documents with classification markings found in the office at the Penn Biden Center on Nov. 4.
He shared that on Nov. 14, he assigned U.S. Attorney John Lausch to "conduct an initial investigation to inform my decision whether to appoint a special counsel."
Do you think a special counsel is warranted?
Additionally, Garland explained Biden's personal lawyer told Lausch documents with classification markings were found in the garage of the president's Wilmington home on Dec. 20.
The attorney general said Lausch advised him on Jan. 5 that "further investigation by a special counsel was warranted.
The New York Times noted, "The appointment is intended to insulate the Justice Department from accusations of partisanship at a time when the new Republican majority in the House has embarked on an aggressive and open-ended investigation into what they claim is the Biden administration's bias against their party."
Advertisement - story continues below
It added Hur "is authorized to prosecute any crimes arising from the inquiry or to refer matters for prosecution by federal attorneys in other jurisdictions."
Biden told reporters Tuesday he was "surprised to learn that there were any government records that were taken there to" the Penn Biden Center office.
"But I don't know what's in the documents. My lawyers have not suggested I ask what documents they were," he added.
CNN reported the documents contained intelligence memos on Iran, Ukraine, and the United Kingdom.
Truth and Accuracy
We are committed to truth and accuracy in all of our journalism. Read our editorial standards.
Comment Down Below
Conversation