News
Top General Feared Trump Would Attempt a Coup After Election Loss: Book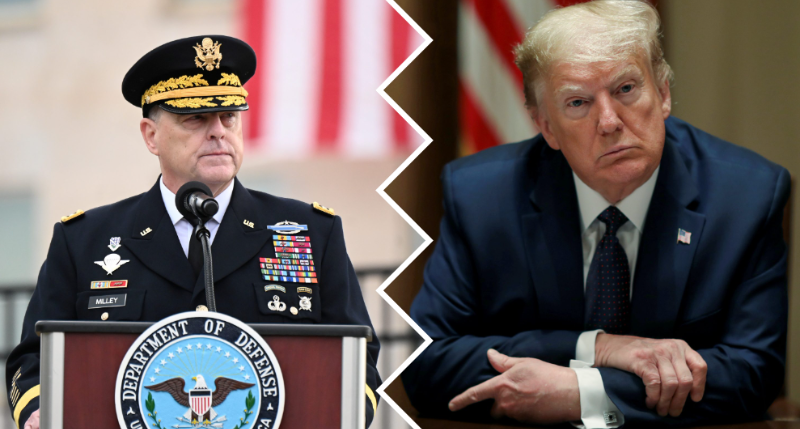 Chairman of the Joint Chiefs of Staff Gen. Mark Milley was reportedly concerned then-President Donald Trump might launch a coup attempt after his election loss.
According to an excerpt from The Washington Post reporters Carol Leonnig and Philip Rucker's forthcoming book "I Alone Can Fix It: Donald J. Trump's Catastrophic Final Year," Milley compared Trump's post-election rhetoric to Adolf Hitler's.
The book described how Milley had a "stomach-churning" feeling listening to Trump's unfounded claims of widespread fraud in the election. As The Post reports, Milley drew a comparison "to the 1933 attack on Germany's parliament building that Hitler used as a pretext to establish a Nazi dictatorship."
Advertisement - story continues below
"This is a Reichstag moment," Milley reportedly told aides. "The gospel of the Führer."
The book says that Milley strategized with other officials about how to block a Trump order to use the military in a way that would be illegal.
The top general believed that in order to successfully carry out a coup, Trump would need loyalists in the Federal Bureau of Investigation (FBI), Central Intelligence Agency (CIA), and the Pentagon.
 "They may try, but they're not going to f—ing succeed," Milley told his aides of a potential coup attempt.
Advertisement - story continues below
He also tried to reassure lawmakers on Capitol Hill that there would be a peaceful transfer of power as he said that "everything's going to be okay."
"We're going to have a peaceful transfer of power. We're going to land this plane safely. This is America. It's strong. The institutions are bending, but it won't break," he added.
Leonnig and Rucker also report that House Speaker Nancy Pelosi (D-Calif.) pressed Milley for assurances that Trump would not be able to launch a nuclear attack after the Jan. 6 riot at the U.S. Capitol.
"This guy's crazy," the California Democrat reportedly told Milley. "He's dangerous. He's a maniac."
Milley told her, "Ma'am, I guarantee you that we have checks and balances in the system."
Advertisement - story continues below
The Post reporters also write that Milley was determined to see a repeat of the Jan. 6 violence during President Joe Biden's inauguration.
"Everyone in this room, whether you're a cop, whether you're a soldier, we're going to stop these guys to make sure we have a peaceful transfer of power," he told military and law enforcement officials. "We're going to put a ring of steel around this city and the Nazis aren't getting in."
While Trump appointed Milley to his position in 2018, his view of the general appears to have dramatically soured.
In a statement last month, the former president blasted Milley and called for him to resign and be replaced "with someone who is actually willing to defend our Military from the Leftist Radicals who hate our Country and our Flag."
Truth and Accuracy
We are committed to truth and accuracy in all of our journalism. Read our editorial standards.
Comment Down Below
Conversation