News
Raffensperger Writing New Book Taking Aim at Trump Over Election Fraud Claims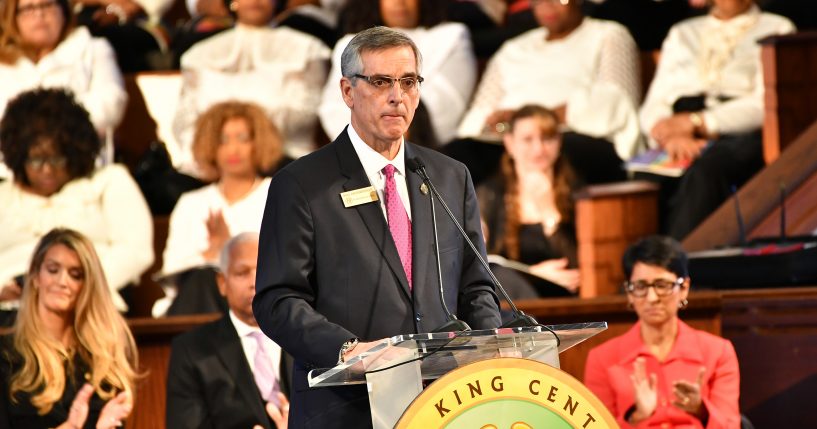 Georgia Secretary of State Brad Raffensperger (R) is writing a new book detailing his experience with former President Donald Trump's voter fraud claims following the 2020 presidential election.
According to the description for the book, "Integrity Counts," Raffensperger "speaks out against the former president's false claims of voter fraud in the 2020 election and hopes to restore confidence and trust in our country's elections."
The publisher says Raffensperger "defended American democracy by refusing to bend to demands that he change the legitimate results of the 2020 presidential election in his state."
Advertisement - story continues below
The description also mentioned the exchange Raffensperger had with Trump during which the former president told him, "I just want to find 11,780 votes." Raffensperger refused to give into Trump's demands.
Following the election, Raffensperger claims one of the most troubling questions is "whether America will see every candidate who loses a major election refuse to accept the results and, instead, set out to raise money and build support on unfounded claims of fraud and corruption."
The description of the book also brings up former Georgia Democratic gubernatorial candidate Stacey Abrams and her refusal to concede in 2018, "By November 2020, Raffensperger had been challenging the claims of a 'stolen election' for nearly two years. In the fall of 2018, after Democrat Stacey Abrams lost the race for governor of Georgia, she told a crowd of supporters."
"So, to be clear, this is not a speech of concession. Concession means to acknowledge an action is right, true, or proper. As a woman of conscience and faith, I cannot concede," Abrams said.
Advertisement - story continues below
The book is set to be published on November 2.
Trump previously voiced his frustration with Raffensperger in March and announced his endorsement for Rep. Jody Hice (R-Ga.) for the position.
"Unlike the current Georgia Secretary of State, Jody leads out front with integrity," Trump said. "Jody will stop the Fraud and get honesty into our Elections!"
The New York Times pointed out Hice condemned the second impeachment of Trump in January, calling it "misguided" and directed at "scoring cheap political points."
Additionally, Hice supported Trump's false election fraud claims.
Truth and Accuracy
We are committed to truth and accuracy in all of our journalism. Read our editorial standards.
Conversation