News
'Good Morning America' Co-Anchors Reportedly Benched After News of Romantic Relationship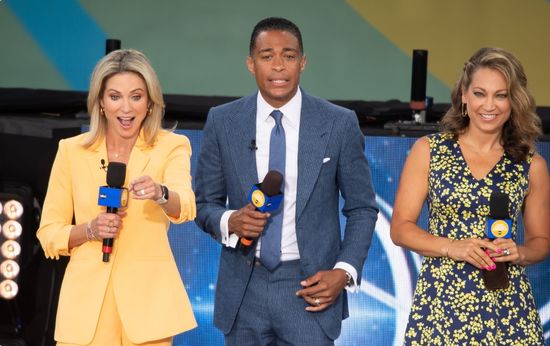 "Good Morning America" co-anchors T.J. Holmes and Amy Robach are being taken off the air following the news of their romantic relationship, according to a report.
Variety reported on Monday ABC News President Kim Godwin informed staffers of the decision during an editorial call.
A person familiar with the matter told the outlet Godwin said, while Robach and Holmes had not violated any company policy, the network believes the issue has become "an internal and external disruption," and "wanted to do what's best for the organization."
Advertisement - story continues below
According to Variety, Gio Benitez and Stephanie Ramos would co-host the broadcast Monday.
However, according to the source, there is "not a sense at present of how the program will be staffed for the rest of the week or when Robach and Holmes might return," Variety reported.
Page Six noted the news of the relationship broke last week after the pair "put on a flirtatious display at bars near ABC's Midtown studios."
The outlet pointed out it is believed Holmes and Robach's romantic relationship could have begun as early as the spring.
Advertisement - story continues below
However, according to Page Six, other sources close to the anchors stress the relationship took off in August when they separated from their spouses.
One insider shared with the outlet how "Good Morning America" anchor Robin Roberts felt about the news.
Do you agree with the decision to take them off the air?
"She is not only very religious, but also doesn't like this kind of scandal tainting the show," the insider said.
An insider also said Roberts "pulled them both aside and basically said, 'Stop it.'"
Additionally, over the weekend, Entertainment Tonight reported that Holmes had an affair with a former 'Good Morning America' producer that went on for a few years before his relationship with Robach.
Truth and Accuracy
We are committed to truth and accuracy in all of our journalism. Read our editorial standards.
Comment Down Below
Conversation