News
GOP Leader Promises There Will Be a 'Day of Reckoning' for Biden Over Afghanistan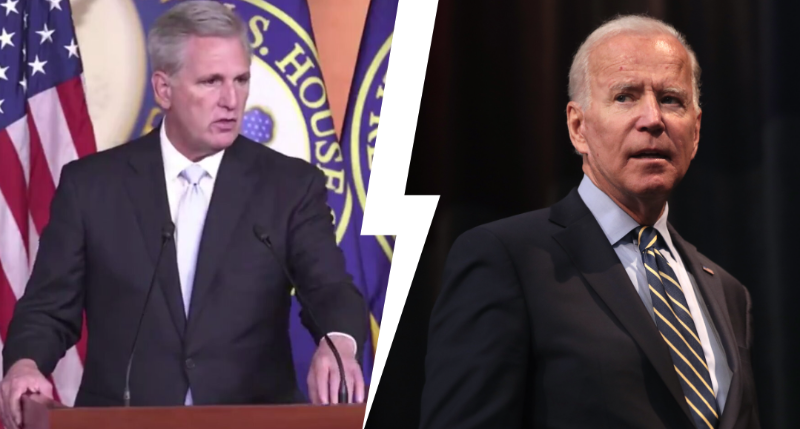 House Minority Leader Kevin McCarthy (R-Calif.) is vowing that there will be a "reckoning" for President Joe Biden over his handling of the withdrawal from Afghanistan.
During a press conference on Thursday, the California Republican was asked if he agrees with calls for Biden's impeachment or resignation.
"I'm extremely frustrated with this president. As I said, if you want to be president of the free world, you have to have the faith, the trust, the confidence of the American public," McCarthy said.
Advertisement - story continues below
He continued, "President Biden lost that yesterday. There will be a day of reckoning, and we have Constitutional rights. Right now in the next five days, everyone's responsibility should only be focused on getting the Americans out."
Watch the video below:
NBC's Ali Vitali asked House Minority Leader Kevin McCarthy (R-CA) whether he agrees with calls that Biden should resign or be impeached over Afghanistan withdrawal.

McCarthy says he's "frustrated" and "there will be a day of reckoning." pic.twitter.com/agOvE9BBSy

— The Recount (@therecount) August 27, 2021
His comments come after an explosion in Kabul, Afghanistan, killed at least 13 U.S. service members and scores of Afghan civilians.
Advertisement - story continues below
After the attacks, several Congressional Republicans called for Biden's resignation or impeachment. CNN reports that during a Republican conference call, McCarthy told members, "Promise you there is going to be a reckoning."
"We are going to hold every single person accountable," he added.
Do you think there will be a "day of reckoning" for Biden?
During an event at the White House on Thursday, Biden was asked, "Do you bear any responsibility for the way that things have unfolded in the last two weeks?"
"I bear responsibility for fundamentally all that's happened of late, but here's the deal," he responded.
Biden noted that former President Donald Trump struck an agreement with the Taliban "that he would get all American forces out of Afghanistan by May 1."
Advertisement - story continues below
He added, "In return, the commitment was made – and that was a year before. In return, he was given a commitment that the Taliban would continue to attack others but would not attack any American forces."
Still, he vowed that the U.S. will "hunt down" those behind Thursday's attacks and "make you pay."
The president has previously defended the decision to withdraw all U.S. forces as he argued that there would never be a good time to leave the country.
Truth and Accuracy
We are committed to truth and accuracy in all of our journalism. Read our editorial standards.
Conversation