News
GOP Senator Apologizes After Making Comment About 'Two Sexes'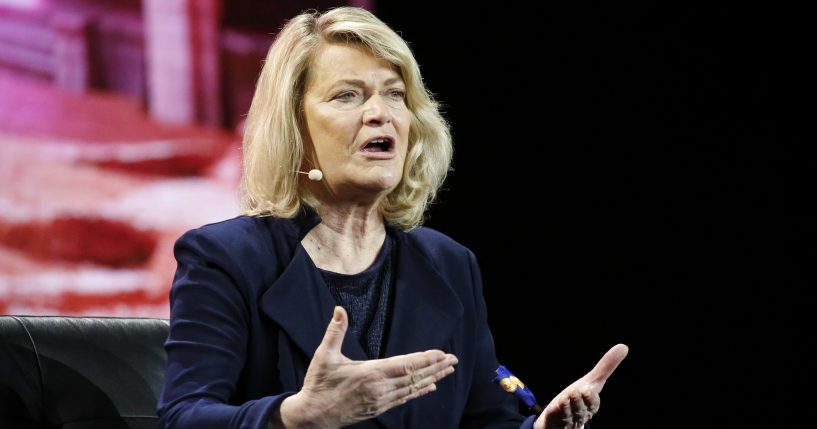 Sen. Cynthia Lummis (R-Wyo.) issued an apology after making a comment about "two sexes" during a commencement address at the University of Wyoming.
During her speech, Lummis said "the existence of two sexes, male and female" was a "fundamental scientific truth," as Oil City News reported.
Her comment drew boos from the crowd.
Advertisement - story continues below
Lummis later issued a statement, saying, "My reference to the existence of two sexes was intended to highlight the times in which we find ourselves, times in which the metric of biological sex is under debate with potential implications for the shared Wyoming value of equality."
The statement continues, "I share the fundamental belief that women and men are equal, but also acknowledge that there are biological differences and circumstances in which these differences need to be recognized. That being said, it was never my intention to make anyone feel un-welcomed or disrespected, and for that I apologize."
Lummis explained she has "appreciated hearing from members of the University of Wyoming community on this issue, and I look forward to continuing this dialogue."
University of Wyoming President Ed Seidel released a statement responding to the remark made by Lummis.
Advertisement - story continues below
"One of our speakers made remarks regarding biological sex that many on campus take issue with. While we respect the right of all to express their views, from students to elected officials, we unequivocally state that UW is an institution that supports and celebrates its diverse communities that collectively make us the wonderful place that we are," Seidel said.
He added, "Thank you to the many students and families who celebrated with us this weekend. We welcome the incredible individuality and intellect of all our dynamic and diverse students and never want you to feel otherwise."
Should she have apologized?
Watch her comments below:
U.S. Sen. Cynthia Lummis (R–WY) was loudly booed during her University of Wyoming commencement speech yesterday after remarking "even fundamental scientific truths such as the existence of two sexes, male and female, are subject to challenge these days." pic.twitter.com/k9SVxe0GmC

— Tony Webster (@webster) May 15, 2022
Lummis' remarks come as Republican-led states have implemented legislation aimed at addressing the issue.
Advertisement - story continues below
CNN reported last month Republicans have passed legislation prohibiting instruction in the classroom about LGBTQ+ individuals, banning gender-affirming care for individuals under the age of 18 and banning transgender children from participating in youth sports.
Truth and Accuracy
We are committed to truth and accuracy in all of our journalism. Read our editorial standards.
Comment Down Below
Conversation