News
GOP Senator Says There Is One Thing Biden Can Do to Solve Inflation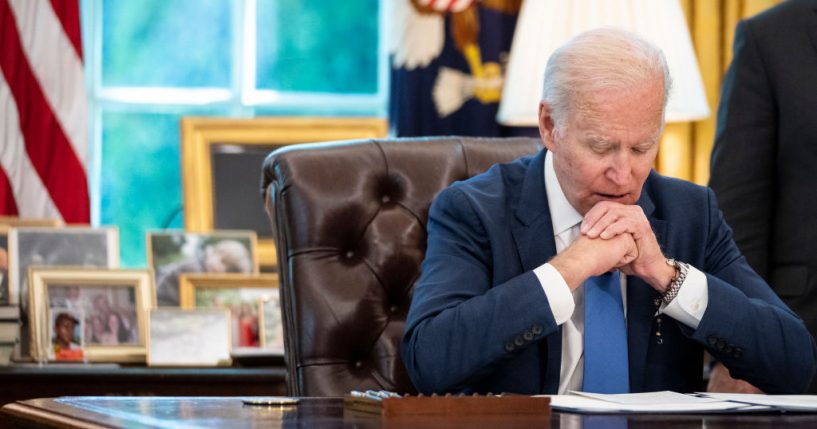 Sen. Rick Scott (R-Fla.) offered a way for President Joe Biden to solve the issue of inflation, saying he should "resign."
Scott issued a statement ahead of Biden's Tuesday speech during which the president is expected to blame Republicans for inflation.
"It's simple. The most effective thing Joe Biden can do to solve the inflation crisis he created is resign. He's the problem. Getting him out of office is a quick and easy solution," Scott said.
Advertisement - story continues below
He added, "Let's be honest here. Joe Biden is unwell. He's unfit for office. He's incoherent, incapacitated and confused. He doesn't know where he is half the time."
Scott continued, "He's incapable of leading and he's incapable of carrying out his duties. Period."
The senator suggested everyone "knows it. No one is willing to say it. But we have to, for the sake of the country. Joe Biden can't do the job."
Read the statement below:
Advertisement - story continues below
.@JoeBiden is unwell. He's unfit for office. He's incoherent, incapacitated & confused.

If Biden wants to actually fix the inflation crisis he created, he should resign. https://t.co/KqrCqgheI2

— Rick Scott (@SenRickScott) May 10, 2022
ABC News reported Biden is expected to take aim at Republicans for not having a plan to tackle inflation.
Should Biden "resign" to solve inflation?
"In fact, the only economic plan congressional Republican leadership has put forward is an ultra-MAGA proposal that would raise taxes on 75 million, primarily middle-class American families while sunsetting vital programs like Social Security and Medicare," a White House official said.
Biden is also expected to criticize a 'Rescue America' proposal from Rick Scott, as Reuters reported.
Scott's website argues, "Joe Biden's inflation has already raised taxes on every single American by more than $5,000 while Senator Scott has cut more taxes than anyone in Washington and will continue to fight for lower taxes for hard-working Americans."
Advertisement - story continues below
A CNN Poll conducted by SSRS found 8 in 10 believe the government isn't doing enough to combat inflation.
CNN noted the country is experiencing the worst inflation in 40 years.
A White House official claimed fighting inflation is Biden's "top economic priority," saying the administration is "laser-focused on doing everything we can to bring down prices."
Truth and Accuracy
We are committed to truth and accuracy in all of our journalism. Read our editorial standards.
Comment Down Below
Conversation