Graham Calls on McConnell to Declare Impeachment of Trump 'Unwise' and 'Unconstitutional'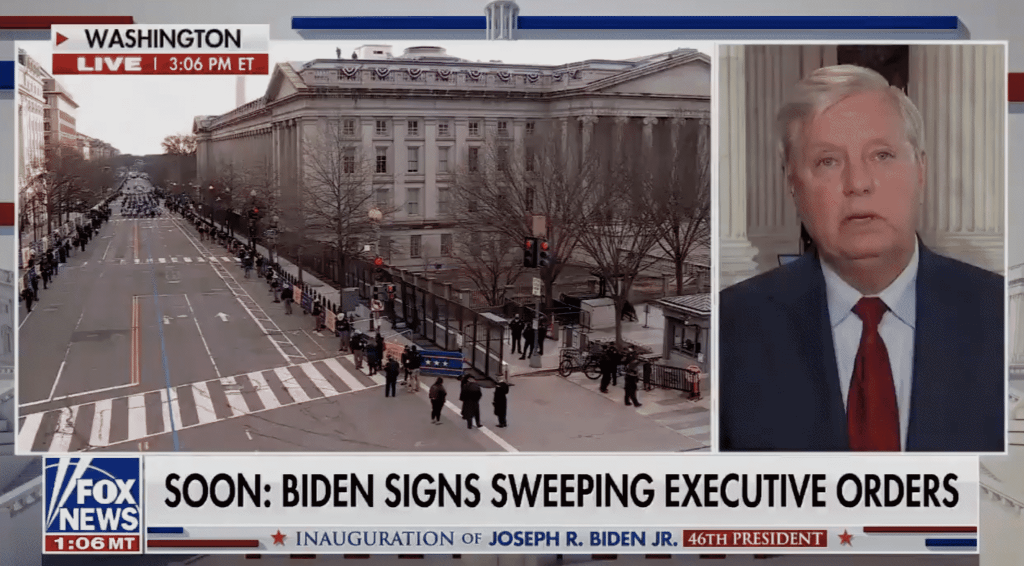 Sen. Lindsey Graham (R-S.C.) is urging Senate Majority Leader Mitch McConnell (R-Ky.) to label the impeachment of former President Donald Trump as "unwise" and "unconstitutional."
"He's a solid conservative but I'm hoping that he will make an announcement soon saying that impeachment under these circumstances is unwise and unconstitutional. If this party is going to survive, we've got to realize that Donald Trump had a consequential presidency for conservatives," Graham said during an appearance on Fox News.
He added, "That he's going to be the strongest voice in the party. I realize that and I appreciate that and the test for President Trump is will he help us in 2022? Take back the House and Senate because without his help, we cannot take back the House and the Senate. With his help I think we can."
Watch his remarks below:
Sen. Lindsey Graham (R-SC) calls out outgoing Senate Majority Leader Mitch McConnell and says Republicans have to realize that Trump is "the strongest voice in the party."

"The test for President Trump is: Will he help us in 2022?" pic.twitter.com/xiM9MKxQ62

— The Recount (@therecount) January 20, 2021
During another Fox News appearance on Sunday, Graham warned his Republican colleagues against voting to convict Trump on the charge of "incitement of insurrection," as IJR previously reported.
"If we embrace an unconstitutional impeachment of Donald Trump after he's out of office, it will destroy the party. The Republican Party wants to move forward," Graham said.
He also wrote a letter to Senate Minority Leader Chuck Schumer (D-N.Y.) calling on him to hold a vote to dismiss the impeachment article against Trump, as IJR previously reported.
"In your first act as Majority Leader, rather than begin the national healing that the country so desperately yearns for, you seek vengeance and political retaliation instead," Graham said.
He continued, "While the Vice President and Senate Republicans rejected unconstitutional actions, you seek to force upon the Senate, what would itself be but one more unconstitutional action in this disgraceful saga—the impeachment trial of a former president."
McConnell told his Republican colleagues in a letter he has not made up his mind about whether he will vote to convict Trump.
"I intend to listen to the legal arguments when they are presented to the Senate," he wrote.