News
Hawley Says Men Are Being Told Their 'Masculinity Is Inherently Problematic'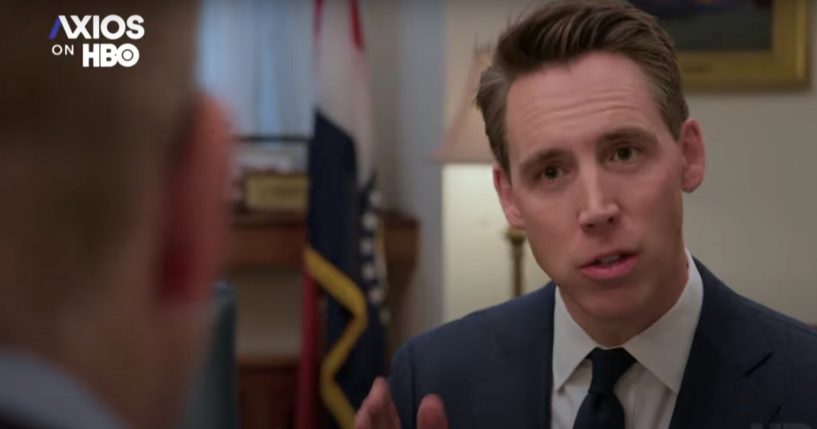 Sen. Josh Hawley (R-Mo.) says as a conservative it is necessary to "call men back to responsibility."
During an interview with "Axios on HBO," the senator was asked why he is making masculinity his "new big issue."
Hawley explained, "Well, I think what the left is doing is attacking America. They're saying that America is systemically oppressive, and men are systemically responsible."
Advertisement - story continues below
When asked what defines a man, Hawley replied, "Well, a man is a father, a man is a husband, a man is somebody who takes responsibility."
He continued, "As conservatives, we've got to call men back to responsibility. We've got to say that spending your time not working, and we have more and more men who aren't working. Spending your time on video games, spending your time watching porn online while doing nothing is not good for you, your family, or this country."
Axios' Mike Allen responded, "So a viewer is watching this and they're thinking, 'Really? What the liberals are doing are going to push me to watch pornhub more or play Donkey Kong more.'"
He asked Hawley, "Do you mean that literally?"
Advertisement - story continues below
Hawley told Allen, "Well, what I mean literally is that the liberal attack, the leftwing attack on manhood says to men you're part of the problem. It says that your masculinity is inherently problematic, it's inherently oppressive."
Watch Hawley's interview below:
Is there a liberal attack on manhood?
Allen challenged Hawley on whether his claims are based on data or a hunch.
"You've got men, 16 million men, who are idle, who don't have anything to do. Now, partly that's their own responsibility but also partly because jobs have dried up in many cities across America and rural areas, too," Hawley said.
Advertisement - story continues below
He added, "I think you put together lack of jobs, you put together fatherlessness, you put together the social messages that we teach our kids in school, I think we've got to confront that and its effects."
The interview comes after a speech Hawley made at the National Conservatism conference in Orlando, Florida, about masculinity.
As Business Insider noted, the focus of his remarks was the "future of the American man." Hawley suggested "deconstruction of America begins with and depends on the deconstruction of American men." 
Sending a message to men in America, Hawley told them, "You can be a tremendous force for good. Your nation needs you. The world needs you."
Truth and Accuracy
We are committed to truth and accuracy in all of our journalism. Read our editorial standards.
Comment Down Below
Conversation