News
Hecklers Call Pence a 'Traitor' During Conservative Conference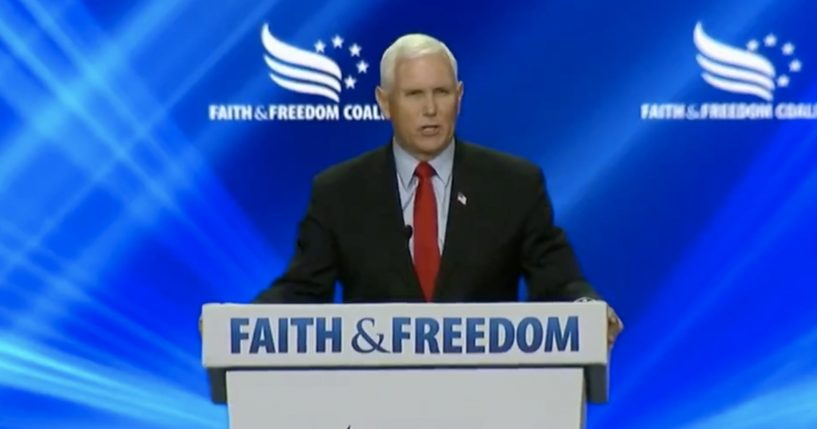 Former Vice President Mike Pence was met with calls of "traitor" during a conservative conference, contributing to the existing criticism of him for his role in certifying President Joe Biden's electoral victory.
"It is great to be back with so many patriots dedicated to faith and freedom and the road to the majority," Pence said during the Faith & Freedom Coalition summit on Friday.
Hecklers began shouting "traitor" as he continued, "I'm a Christian, a conservative and a Republican, in that order."
Advertisement - story continues below
Watch the video below:
Pence gets drowned out by hecklers at the Faith & Freedom Coalition summit, some of whom appear to be chanting "traitor!" pic.twitter.com/pAQxavsK3O

— Andrew Solender (@AndrewSolender) June 18, 2021
Former President Donald Trump previously believed that Pence "had the power to unilaterally throw out electoral votes," as The New York Times reported.
The outlet noted, "But there is nothing in the Constitution or the law that explicitly gives a vice president that power."
Advertisement - story continues below
Pence was removed from the Senate chamber on January 6, the same day he was presiding over the certification of the results, after protesters stormed the U.S. Capitol.
Trump attacked Pence in a tweet on January 6, saying, "Mike Pence didn't have the courage to do what should have been done to protect our Country and our Constitution, giving States a chance to certify a corrected set of facts, not the fraudulent or inaccurate ones which they were asked to previously certify."
During his speech on at the Hillsborough County Republican Committee's Lincoln-Reagan Dinner in New Hampshire earlier this month, Pence reflected on that day, as IJR reported.
"As I said that day, January 6 was a dark day in the history of the United States Capitol," Pence said.
He added, "You know, President Trump and I have spoken many times since we left office. And I don't know if we'll ever see eye to eye on that day. But I will always be proud of what we accomplished for the American people over the last four years."
Advertisement - story continues below
Last month Trump continued to push false election claims. He said the election was "corrupt" and "was indeed The Big Lie."
The Associated Press fact-checked the statement, "To be clear, no widespread corruption was found and no election was stolen from Trump."
Truth and Accuracy
We are committed to truth and accuracy in all of our journalism. Read our editorial standards.
Conversation