News
Hillary Clinton Suggests Americans 'Didn't Really Appreciate' Biden's Accomplishments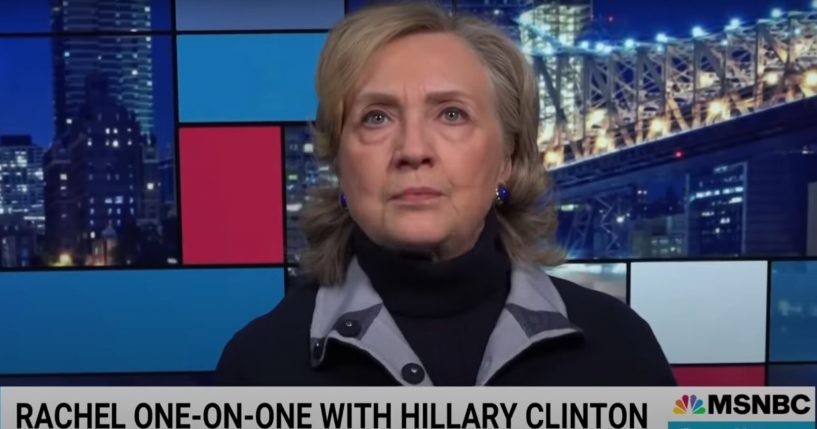 Former Secretary of State Hillary Clinton suggested Americans are not acknowledging President Joe Biden's accomplishments.
During an interview with MSNBC Tuesday night, Clinton told host Rachel Maddow, "You know, democracy is messy. You know, a lot of people got, oh I think, kind of frustrated looking at the messy process of legislation."
She added, "And they didn't really appreciate that, within a year, the Biden administration has passed two major pieces of legislation through both the House and the Senate."
Advertisement - story continues below
Calling them "extraordinary accomplishments," Clinton explained, "But because of the way we are getting our information today, and because of the lack of gatekeepers and people who have a historic perspective who can help us understand what we are seeing, there is a real vulnerability in the electorate to the kind of demagoguery and disinformation that, unfortunately, the other side is really good at exploiting."
Watch the video below:
Last week, Biden signed the $1.2 trillion infrastructure bill into law. It includes funding for roads and bridges, transit and rail, broadband, electric vehicles, and more.
Advertisement - story continues below
"Here in Washington, we've heard countless speeches, promises and white papers from experts — but today, we're finally getting this done," Biden said.
He continued, "The bill I'm about to sign into law is proof that despite the cynics, Democrats and Republicans can come together and deliver results."
Do you appreciate Biden's accomplishments?
In March, the president signed the $1.9 trillion coronavirus relief package. It sent direct payments to Americans of up to $1,400 and extended enhanced unemployment benefits until early September.
"This historic legislation is about rebuilding the backbone of this country," Biden said before signing the bill. "And giving people in this nation, working people, middle-class folks, the people who built this country, a fighting chance."
Truth and Accuracy
We are committed to truth and accuracy in all of our journalism. Read our editorial standards.
Comment Down Below
Conversation