Sen. Mazie Hirono Predicts GOP Senators Will Not Convict Trump Out of 'Fear'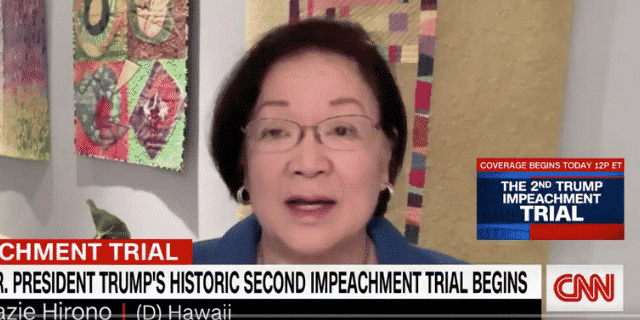 The Senate is set to begin its impeachment trial of former President Donald Trump to either acquit or convict him on the charge of "incitement of insurrection."
The trial will begin on Tuesday and comes after only the fourth impeachment of a president in U.S. history. Whether Trump will be convicted in the Senate's trial will depend on how many senators vote in favor of the impeachment article. At least 17 Republican senators will have to join Democrats in order for Trump to be convicted.
Speaking with CNN's John Berman, Sen. Mazie Hirono (D-Hawaii) said on Tuesday that she believes most of her Republican colleagues will not vote to convict Trump.
She added that Republican senators who do not convict Trump are "hiding behind this argument" that the impeachment of a former president is not constitutional.
"They'll hide behind that. Why?" Hirono added. "Because what is happening with my Republican colleagues, most of them, is their extreme fear of Donald Trump and the Trump base."
The Democratic lawmaker continued, "What's motivating them is extreme fear, rather than doing their constitutional responsibility to listen to the evidence and make a vote for conviction."
Watch Horono's interview below:
"All of us were witnesses to the horrific events of January 6th. So, I don't have very many questions frankly," Sen. @maziehirono says ahead of the impeachment trial.

Most GOP senators will not vote to convict Trump because "fear has been motivating the Republicans," she adds. pic.twitter.com/eddfl4dLRY

— New Day (@NewDay) February 9, 2021
Sen. James Lankford (R-Okla.) said, "I don't know of anyone that their mind is not made up ahead of the impeachment trial. The first question on the issue of constitutionality, that drives a lot of it and everything else. I think people are pretty locked down."
Asked if Lankford is right with his remark, Hirono shared that she has heard "if Republicans could vote by secret ballot, most of them would vote to convict."
"That shows that they are hiding behind an unconstitutional claim that is not the case," Hirono said. The lawmaker added that she believes it is a "sad thing" Republican senators may not vote to convict and the "lack of conviction is on the Republicans."
Sen. Rand Paul (R-Ky.) led an effort to declare Trump's impeachment trial unconstitutional, but it failed with a 55-45 vote — five Republican senators did not vote for it, as IJR previously reported on.
Lankford also said ahead of the Senate's impeachment trial, "You've got to solve the first issue first. Does this have standing in the basic case? Is this constitutional? Is this jurisdictional? That's already settled for many people including myself."