News
House Committee Meeting Erupts Over Argument About the Pledge of Allegiance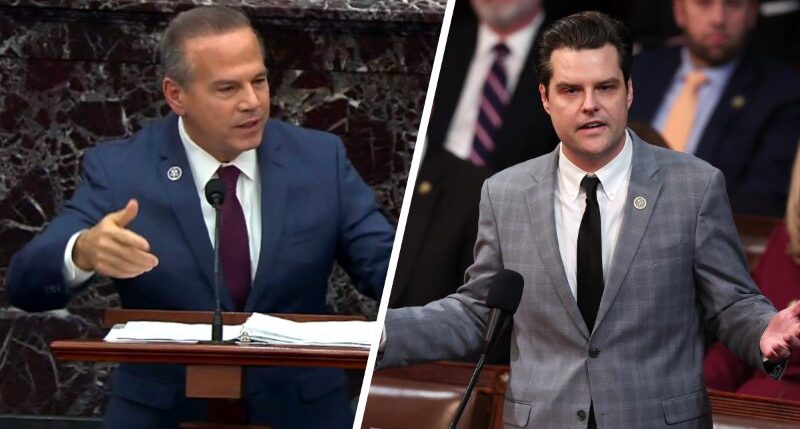 A House Judiciary Committee meeting turned heated over an argument surrounding the Pledge of Allegiance.
During the meeting, Rep. Matt Gaetz (R-Fla.) introduced an amendment to start each meeting with the pledge.
Rep. David Cicilline (D-R.I.) then sought to add a condition where the pledge cannot be led by an individual who supported the January 6 riot at the U.S. Capitol.
Advertisement - story continues below
"This pledge is an affirmation of your defense of democracy and the Constitution," Cicilline said.
He added, "It's hard to take that claim seriously if in fact, an individual in any way supported an insurrection against the government."
Gaetz responded to Cicilline, saying, "My concern would be if your definition of an insurrection is objecting to electors, then there would be many Democrats on the committee that would not be eligible to lead the pledge."
He later continued, "I'm concerned that you may be disqualifying too many of your own members."
Advertisement - story continues below
Cicilline explained, "I'm talking about elected officials who swear an oath to the Constitution of the United States, who in any way participated, supported, facilitated, encouraged the insurrection against the United States."
He added, "That's not too hard a standard."
Do you think they should recite the pledge twice?
Watch the video below:
Democrats: Insurrectionist shouldn't lead the pledge of allegiance.
GOP: Yes we should. 😬 pic.twitter.com/Fq7pNA87hV

— Michelle (@LivingBlueTX) February 1, 2023
Gaetz received support from other members of Congress.
Advertisement - story continues below
"I know it's a real backbreaker," Rep. Jeff Van Drew (R-N.J.) joked about the pledge.
He continued, "We can [go] that little extra mile, stand up, put our hand on our chest, say what we believe, and reaffirm this America that we love. Come on. This can't be real. I can't believe we're having this debate."
NBC News noted Gaetz's amendment passed 39-0 while Cicilline's amendment was defeated 24-13.
Rep. Jerry Nadler (D-N.Y.) expressed the question of why they need to recite the pledge for a second time during the day.
Advertisement - story continues below
"I don't know why we should pledge allegiance twice in the same day to show how patriotic we are," he said.
Truth and Accuracy
We are committed to truth and accuracy in all of our journalism. Read our editorial standards.
Comment Down Below
Conversation