News
House Votes to Censure Rep. Paul Gosar Over Anime Video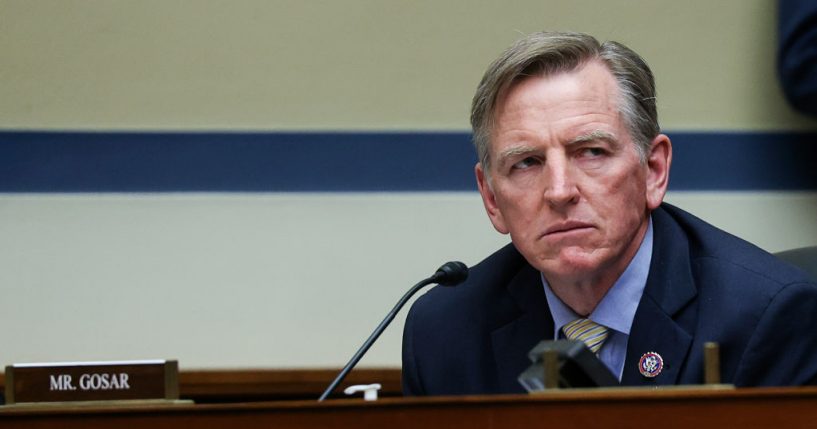 The House has voted to censure Rep. Paul Gosar (D-Ariz.) over a video he shared depicting him killing Rep. Alexandria Ocasio-Cortez (D-N.Y.) and swinging a sword at President Joe Biden.
On Wednesday, the chamber voted 223 to 207 to censure Gosar and strip him of his committee assignments.
Just two Republicans voted in favor of the measure. One Republican voted present.
Advertisement - story continues below
The House votes 223-207-1 in favor of censuring Rep. Gosar and revoking his committee assignments.

Only two Republicans – Reps. Cheney and Kinzinger — joined Dems in voting yes. Rep David Joyce voted present

AOC sitting in the front row of the chamber when vote became final

— Ursula Perano (@UrsulaPerano) November 17, 2021
On Nov. 8, Gosar shared the controversial video, as IJR reported.
He tweeted, "Any anime fans out there?"
House Minority Leader Kevin McCarthy (R-Calif.) told CNN, "He took the video down, and he made a statement that he doesn't support violence to anybody. Nobody should have violence [against them]."
Advertisement - story continues below
"I called him when I heard about the video, and he made a statement that he doesn't support violence, and he took the video down."
However, the network noted McCarthy did "not directly condemn Gosar's behavior.
Do you think this was a good move?
Ahead of the vote, House Majority Whip Jim Clyburn (D-S.C.) told CNN, "When someone sends out a tweet or any other illustration of him or her murdering somebody on the House floor. That, to me, goes far beyond the pale. And that person should not even be a member of this body."
"I think it would have been the right thing to do to move to expel him," he added.
For his part, Gosar said in a speech on the House floor he did not mean for the video to be a threat and added, "If I must join Alexander Hamilton, the first person attempted to be censured by this House, so be it. It is done."
Advertisement - story continues below
McCarthy blasted Democrats for the move ahead of the vote as he said, "Let me be clear. I do not condone violence, and Representative Gosar had echoed that sentiment."
"The video was deleted, but Democrats won't listen because they will do anything to distract from the failures of one-party rule in one year destroying a nation," he claimed.
Meanwhile, Rep. Adam Kinzinger (R-Ill.) said in a tweet he would support the censure resolution, "We have to hold Members accountable who incite or glorify violence, who spread and perpetuate dangerous conspiracies. The failure to do so will take us one step closer to this fantasized violence becoming real."
Truth and Accuracy
We are committed to truth and accuracy in all of our journalism. Read our editorial standards.
Comment Down Below
Conversation