News
Human Rights Campaign Claims LGBT Community Is Living in a 'State of Emergency' in the US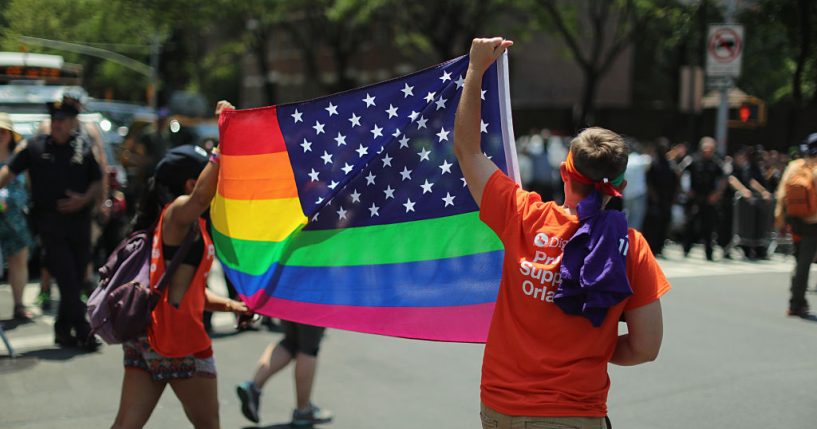 A leading LGBT civil rights organization is issuing a warning about the United States.
On Tuesday, Human Rights Campaign (HRC) president Kelley Robinson said, "LGBTQ+ Americans are living in a state of emergency. The multiplying threats facing millions in our community are not just perceived — they are real, tangible and dangerous."
"In many cases they are resulting in violence against LGBTQ+ people, forcing families to uproot their lives and flee their homes in search of safer states, and triggering a tidal wave of increased homophobia and transphobia that puts the safety of each and every one of us at risk," Robinson continued.
Advertisement - story continues below
In a tweet, the organization noted it was the first time it had "officially declared a state of emergency for LGBTQ+ people in the United States" in its history.
It comes just days into "Pride Month."
For the first time ever, we're declaring a national state of emergency as LGBTQ+ Americans face extremist attempts to roll back our rights. It's more important than ever we have the necessary resources to stay safe no matter where we are. https://t.co/EcnZgqDDCp pic.twitter.com/q0axEWCM1N

— Human Rights Campaign (@HRC) June 6, 2023
Additionally, the HRC published a guide on the "state of LGBTQ+ rights" in every state.
Advertisement - story continues below
The HRC pointed out "more than 75 anti-LGBTQ+ bills have been signed into law this year alone, more than doubling last year's number, which was previously the worst year on record."
In a press release sent out by the organization, a woman identified as Wendy, blamed laws restricting LGBT rights for her relocating.
Do you think this was a good idea?
"Being forced to leave our family and friends, with Texas roots over a hundred years, is going to be the hardest thing we'll ever do," Wendy said.
She added, "Our close knit family, especially my mom, is devastated. Going from seeing each other every week to every other month is going to be emotionally challenging."
HRC and Equality Florida also recently issued an updated travel advisory for Florida.
Advertisement - story continues below
Robinson said of the state, "Because of Ron DeSantis and his frenzied appeal to extremists, LGBTQ+ people in Florida are finding themselves in a state of emergency every single day. Since the day he took office, Governor DeSantis has weaponized his position to weave bigotry, hate, and discrimination into public law for his own political gain."
Meanwhile, the NAACP issued a travel advisory for Florida as it claimed the state has "engaged in an all-out attack on Black Americans, accurate Black history, voting rights, members of the LGBTQ+ community, immigrants, women's reproductive rights, and free speech, while simultaneously embracing a culture of fear, bullying, and intimidation by public officials."
Despite warnings about traveling to Florida, The New York Post reported, "Tens of thousands of people flocked to 'Gay Days' events at Disney in defiance of the theme park's legal row with Florida Gov. Ron DeSantis and his so-called 'Don't Say Gay' legal crackdown."
"A sea of red shirts — many emblazoned with 'Say Gay' or 'Don't say DeSantis' — descended on Orlando from Saturday for the half-week of pool parties, rides and drag bingo to mark the start of Pride Month," it added.
Truth and Accuracy
We are committed to truth and accuracy in all of our journalism. Read our editorial standards.
Comment Down Below
Conversation