News
'Interesting to Me': Pelosi Expresses Frustration With Demands for Feinstein to Resign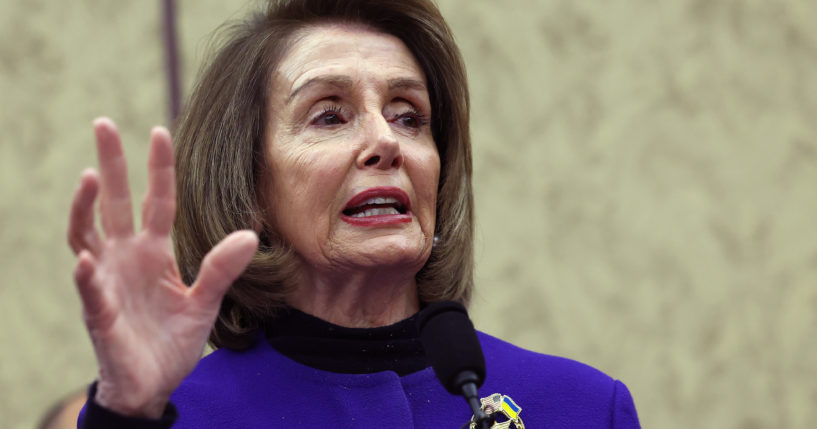 Former House Speaker Nancy Pelosi (D-Calif.) is taking issue with the amount of pressure Sen. Dianne Feinstein (D-Calif.) is receiving to resign.
Pelosi told reporters Feinstein has "been a champion for California."
She continued, "For 20 years, I have been the leader of the Speaker of the House fighting for California and I have seen up and close and firsthand her great leadership for our country, but especially for our state of California."
Advertisement - story continues below
Pelosi argued Feinstein "deserves the respect to get well and be back on duty. It's interesting to me. I don't know what political agendas are at work that are going after Sen. Feinstein in that way."
Pelosi says calls for Feinstein to resign are sexist; Politico reports that Feinstein's aides don't expect her to make it back to DC for the next 2 years. Pelosi endorsed Feinstein in '18 when her senility was well known and recently said she'd back her again if she ran in '24. pic.twitter.com/hNaVNNL5VF

— Alex Sammon (@alex_sammon) April 13, 2023
The senator released a statement Wednesday night addressing the calls to resign, IJR reported.
"When I was first diagnosed with shingles, I expected to return by the end of the March work period. Unfortunately, my return to Washington has been delayed due to continued complications related to my diagnosis," she said.
Advertisement - story continues below
Feinstein shared she intends "to return as soon as possible once my medical team advises that it's safe for me to travel. In the meantime, I remain committed to the job and will continue to work from home in San Francisco."
She added, "I've asked Leader Schumer to ask the Senate to allow another Democratic senator to temporarily serve until I'm able to resume my committee work."
Do you think Feinstein has been a "champion for California."
Judiciary panel chief Sen. Dick Durbin's (D-Ill.) spokeswoman issued a statement to Politico on his behalf expressing well wishes for Feinstein.
"Sen. Durbin wishes Sen. Feinstein well as she continues to recover. And he looks forward to continuing the important work of moving judicial nominees through the Committee when the Senate reconvenes," Emily Hampsten said.
As the outlet notes, Feinstein also currently sits on the Senate Intelligence, Appropriations and Rules committees.
Truth and Accuracy
We are committed to truth and accuracy in all of our journalism. Read our editorial standards.
Comment Down Below
Conversation