News
Jared Kushner Reveals He Battled Cancer While at the White House in New Book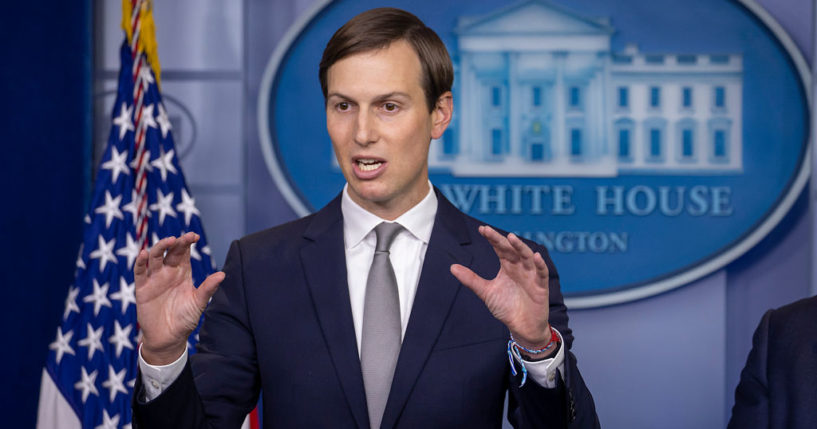 Former White House adviser Jared Kushner revealed in his new book that he suffered thyroid cancer while serving in the Trump administration.
The son-in-law to former President Donald Trump has written a book called,  "Breaking History: A White House Memoir," according to a report by Fox News.
The book outlines Kushner's time as a senior adviser in the Trump administration and indicates that the then-president found out about his son-in-law's condition just before Kushner had to undergo surgery.
Advertisement - story continues below
Kushner found out about the likelihood he had cancer in October 2019 during trade talks with China but kept the news largely to himself.
He did tell a small group of people including his wife, Ivanka Trump and a few aides: "With the exception of Ivanka, Avi, Cassidy, and Mulvaney, I didn't tell anyone at the White House — including the president," the book states, according to Fox News.
"As this high-wire act of trade talks with the Chinese progressed, I had to confront an unexpected and frightening personal problem," Kushner writes in his new book according to Fox News.
The then-30-something father of three continued, "On the morning that I traveled to Texas to attend the opening of a Louis Vuitton factory, White House physician Sean Conley pulled me into the medical cabin on Air Force One," the New York Post reported in their excerpt from the book.
Advertisement - story continues below
"'Your test results came back from Walter Reed,' [Conley] said. 'It looks like you have cancer. We need to schedule a surgery right away,'" Kushner recounted, according to the New York Post's report on his book.
He continued to write:
"Every night, before I went to bed, I lingered for a few extra moments in my children's rooms. I watched them sleep without a care in the world. I felt guilty that I had been so distracted and absent over the previous few years.

I was always at work or taking phone calls when they wanted to spend time with their dad. I missed plays and sporting events. I had promised myself that when my service in the White House ended, I'd make up for lost time. Now I was forced to confront that possibility that my time might be up. I prayed that the surgery would be successful."
The former first-son-in-law also wrote about when Trump found out about his condition, according to Fox News' report: "The day before the surgery, Trump called me into the Oval Office and motioned for his team to close the door. 'Are you nervous about the surgery?' he asked." 
Advertisement - story continues below
Kushner said he didn't know how Trump found out, and when he asked Trump just said, "'I'm the president. I know everything."
"I understand that you want to keep these things quiet," Trump told Kushner. "I like to keep things like this to myself as well. You'll be just fine. Don't worry about anything with work. We have everything covered here."
It is expected that "Breaking History: A White House Memoir," will be available to purchase on August 23.
Truth and Accuracy
We are committed to truth and accuracy in all of our journalism. Read our editorial standards.
Comment Down Below
Conversation