News
John Fetterman's Wife Pens Op-Ed Addressing 'Power Hungry' Woman Trope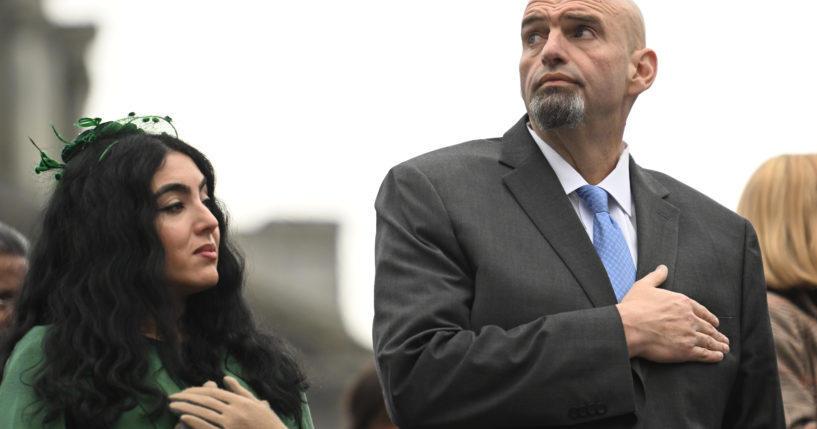 Sen. John Fetterman's (D-Pa.) wife, Gisele Barreto Fetterman, wrote an op-ed to push back against the attacks she says she has received since her husband took office.
The op-ed, published by Elle, is titled, "The Tired Trope of the 'Power Hungry' Woman."
Opening the piece, Barreto Fetterman mentions her husband's decision to check into Walter Reed National Military Medical Center to be treated for clinical depression.
Advertisement - story continues below
"In an instant, our world—already closely monitored, highly scrutinized, and heavily trolled by right-wing extremists—exploded," she wrote.
Barreto Fetterman also mentioned the stroke her husband suffered during his Senate campaign.
"So I already knew how cruel people could be about judging someone's health and using it as a weapon. But I'll admit, I was surprised to find that this time the vast majority of the harassment wasn't directed toward John—but at me," she explained.
Barreto Fetterman then accused others of pushing "conspiracy theories claiming I was an ambitious, power hungry wife, secretly plotting to fill his Senate seat. It was all so wildly preposterous."
Advertisement - story continues below
The op-ed references criticism of Barreto Fetterman from conservative commentator Candace Owens and The Washington Examiner.
"I've been called a 'mail-order bride,' and some have even asked John: 'Where did you buy her?' They told me to go back to my country and criticized my immigration journey from Brazil, even after receiving my green card in 2004 and official U.S. citizenship in 2009. They have even criticized my appearance, often going after my eyebrows and hair," Barreto Fetterman wrote.
Do you think she is "power hungry"?
She mentioned other women she believes receives similar attacks, including Meghan Markle, Jada Pinkett Smith and First Lady Jill Biden.
"As much as I try to block them out, these attacks are really exhausting. Some days I just feel drained and have to let it out in a good cry. Even more, I worry about the millions of women who hear these attacks on TV and social media and then internalize these myths in their own lives," Barreto Fetterman shared.
According to the senator's wife, "A healthy, loving relationship is about supporting your partner's dreams, not controlling them."
Advertisement - story continues below
Concluding her piece, Barreto Fetterman suggested, "What we can do is continue to live with love every day. To show gentleness and compassion to everyone, including ourselves. To reject their venom wholesale, and be wholly, independently who we're meant to and want to be."
On Wednesday, Politico reported that Fetterman is expected to make his way back to the Senate the week of April 17 following his treatment for depression, citing two individuals with knowledge of his plan.
Fetterman's aides told the outlet he has been in regular meetings with his staff and family at the hospital.
According to Politico, Fetterman signed onto a bipartisan rail safety bill while he was being treated.
Truth and Accuracy
We are committed to truth and accuracy in all of our journalism. Read our editorial standards.
Comment Down Below
Conversation