Sen. Ron Johnson Swats Down Claims His Capitol Mob Remarks Are Racist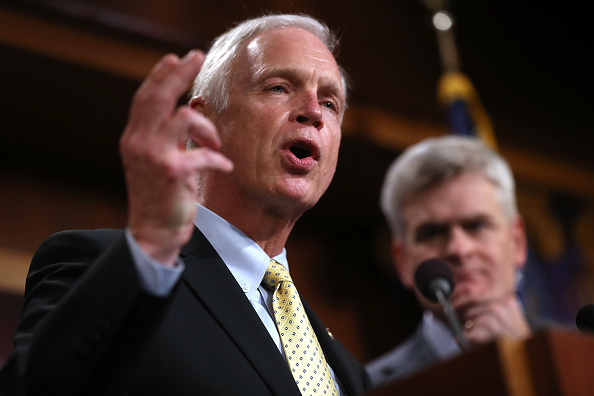 Sen. Ron Johnson (R-Wis.) wound up in some hot water after he claimed he would have been nervous if Black Lives Matter (BLM) protesters stormed the U.S. Capitol on Jan. 6.
However, Johnson responded to his critics as he said "there's no racism involved" in his comments about the riot.
"It has nothing to do with race. It has everything to do with riots," Johnson told WISN-AM. "I completely did not anticipate that anybody could interpret what I said as racist. It's not."
On Thursday, Johnson said on "The Joe Pags Show" that he did not feel threatened as hundreds of pro-Trump rioters stormed the Capitol.
"I've also been criticized because I made the comment on Jan. 6 – I never felt threatened, because I didn't," he said, adding, "Even though those thousands of people were marching on the Capitol were trying to pressure people like me to vote the way they wanted me to vote, I knew those were people that love this country, that truly respect law enforcement, would never do anything to break the law, so I wasn't concerned."
He continued:
"Had the tables been turned, Joe, this could mean trouble. Had the tables been turned and President Trump won the election and those were tens of thousands of Black Lives Matter and Antifa protesters, I might have been a little concerned."
The Wisconsin senator's comments sparked allegations of racism:
Ron Johnson's comments are obvious, undisguised racism.

Johnson was shown video of those rioters attacking and beating police officers. Many of those officers were seriously injured, and some are no longer with us. https://t.co/fvHZwahIxj

— Rep. Don Beyer (@RepDonBeyer) March 15, 2021
This is racism in a nutshell. Next time a Biden nominee gets grilled on implicit bias point to this guy –>https://t.co/tLZdfymc32 via @journalsentinel

— Jennifer 'pro-voting' Rubin (@JRubinBlogger) March 13, 2021
Ron Johnson said that he was not scared during the Jan.6 insurrection because all the seditionists were white. But he said if they were Black, he would have been frightened. He actually said that out loud. Republicans are not even bothering to hide their racism.

— Rob Reiner (@robreiner) March 13, 2021
It's not really subconscious, it it?
The racism here is overt.
He wants voters to know he's a bigot. https://t.co/1VK448V1hN

— Joe Scarborough (@JoeNBC) March 13, 2021
Republicans are defending domestic terrorism and sedition with racism, and they need to be called out on it.

Rachel Maddow Slams Sen. Ron Johnson's Racist Defense Of Trump Terrorists https://t.co/nkud68QZtT via @politicususa

— Sarah Reese Jones (@PoliticusSarah) March 13, 2021
Jessica Floyd, president of Democratic super PAC American Bridge 21st Century, also blasted Johnson's comments as she said in a statement, "Senator Johnson's remarks are racist and unacceptable. There is nothing patriotic about storming the Capitol to attempt to overturn an election and murder elected officials."
Johnson has also previously suggested that those who stormed the building were "fake Trump protesters."