News
Joy Reid Insists DeSantis Is Trying to 'Make the Happiest Place on Earth a Living Hell'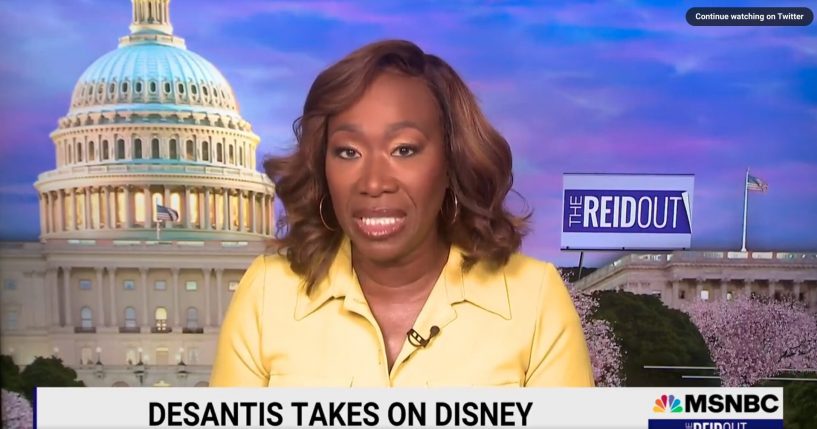 MSNBC's Joy Reid believes Florida Gov. Ron DeSantis (R) is on a mission to "make the happiest place on Earth a living hell."
During a segment of her show "The ReidOut" Wednesday, Reid noted Florida lawmakers took a step that would end The Walt Disney Co.'s self-governing status after it came out against the state's "Parental Rights in Education" law.
"Florida Gov. Ron DeSantis is determined to make the happiest place on Earth a living hell," Reid claimed.
Advertisement - story continues below
She continued, "Baby MAGA is mad that Disney opposes his 'Don't Say Gay' bill, so, today, the Florida Senate voted to revoke the privileges that have allowed Disney World to govern itself since the theme park opened its glittery doors." 
"Meaning, the Trump-y Republican governor who signed anti-gay and anti-trans legislation designed to censor and punish educators "erase the existence of people's lives is going after this private company who dared to contradict him because A: he's an authoritarian on the fascist spectrum and B: he thinks it will make him president," Reid claimed.
Watch the video below:
.@JoyAnnReid leads #TheReidOut tonight in #Florida where tourism is king and where GOP Gov. Ron DeSantis is apparently determined, many believe, to make the happiest place on earth—Disney World–a living hell. pic.twitter.com/0v4KchQmCM

— The ReidOut (@thereidout) April 20, 2022
Advertisement - story continues below
Reid's comments come after the Florida state Senate voted 23-16 on Wednesday to pass a measure that would end the special district that Disney's theme part occupies.
As The Wall Street Journal notes, the district was established in 1967 and has been called the Reedy Creek Improvement District.
Per the paper, the district "exempts Disney from a host of regulations and certain taxes and fees related to emergency services and road maintenance."
The bill would dissolve any special districts that were created before 1968 and have not been renewed on June 1, 2023. It would affect about half a dozen districts.
The Florida House passed the measure on Thursday, and DeSantis is expected to sign it.
Advertisement - story continues below
DeSantis suggested Florida might take such action after Disney spoke out against the state's "Parental Rights in Education" law — which has been dubbed the "Don't Say Gay" law.
As NBC News explains, "The measure bans 'classroom instruction by school personnel or third parties on sexual orientation or gender identity' in kindergarten through third grade."
"It also prohibits such teaching 'in a manner that is not age appropriate or developmentally appropriate for students,' which critics say could be interpreted to extend to all grade levels. Parents can sue school districts for alleged violations," it added.
A Disney spokesperson said in a statement, "Florida's HB 1557, also known as the 'Don't Say Gay' bill, should never have passed and should never have been signed into law."
Advertisement - story continues below
"Our goal as a company is for this law to be repealed by the legislature or struck down in the courts, and we remain committed to supporting the national and state organizations working to achieve that," the statement continued.
After Disney's statement, DeSantis said, "What I would say as a matter of first principle is I don't support special privileges in law just because a company is powerful and they've been able to wield a lot of power."
"I think what has happened is there's a lot of these special privileges that are not justifiable, but because Disney had held so much sway, they were able to sustain a lot of special treatment over the years," he continued. "I would say any special privileges that are in law I would like to get rid of generally."
Truth and Accuracy
We are committed to truth and accuracy in all of our journalism. Read our editorial standards.
Comment Down Below
Conversation