News
Justice Gorsuch Refuses to Wear a Mask Despite Justice Sotomayor's Concerns With Her Health: Report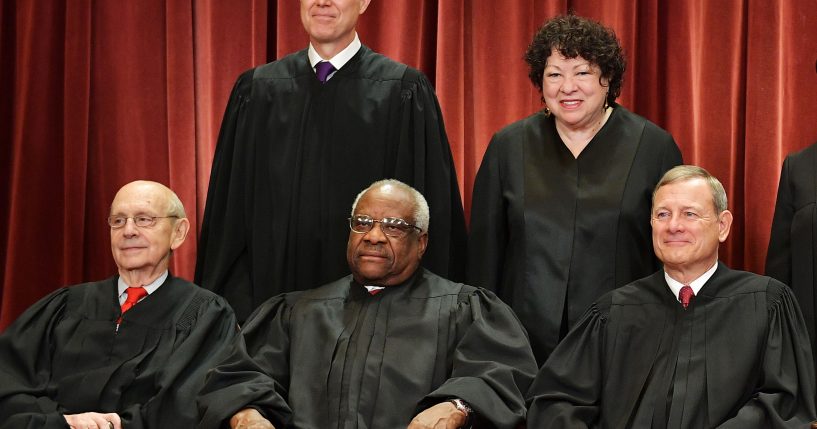 Supreme Court Justice Neil Gorsuch reportedly refuses to wear a mask despite concerns Justice Sonia Sotomayor has with her health.
According to a report published by NPR, when the justices took the bench for the first time since omicron took over the country during the holidays, all wore masks, except Gorsuch.
The report continues, "What's more, Justice Sonia Sotomayor was not there at all, choosing instead to participate through a microphone setup in her chambers."
Advertisement - story continues below
The outlet noted Sotomayor has diabetes, adding, "A condition that puts her at high risk for serious illness, or even death, from COVID-19."
NPR pointed out Sotomayor "has been the only justice to wear a mask on the bench since last fall when, amid a marked decline in COVID-19 cases, the justices resumed in-person arguments for the first time since the onset of the pandemic."
Court sources told the outlet Sotomayor did not feel safe being near those not wearing masks. Aware of Sotomayor's concerns, Chief Justice John Roberts asked other justices to wear masks.
"They all did. Except Gorsuch, who, as it happens, sits next to Sotomayor on the bench. His continued refusal since then has also meant that Sotomayor has not attended the justices' weekly conference in person, joining instead by telephone," NPR reported.
Advertisement - story continues below
The report comes just days after the Supreme Court blocked President Joe Biden's vaccine mandate for large businesses. Still, it allowed a vaccine mandate for health care workers to take effect.
"Today, we are not wise. In the face of a still-raging pandemic, this Court tells the agency charged with protecting worker safety that it may not do so in all the workplaces needed. As disease and death continue to mount, this Court tells the agency that it cannot respond in the most effective way possible," Justices Stephen Breyer, Sotomayor, and Elena Kagan wrote.
Truth and Accuracy
We are committed to truth and accuracy in all of our journalism. Read our editorial standards.
Comment Down Below
Conversation