News
Kamala Harris Talks Americans' Response to Prices Going Up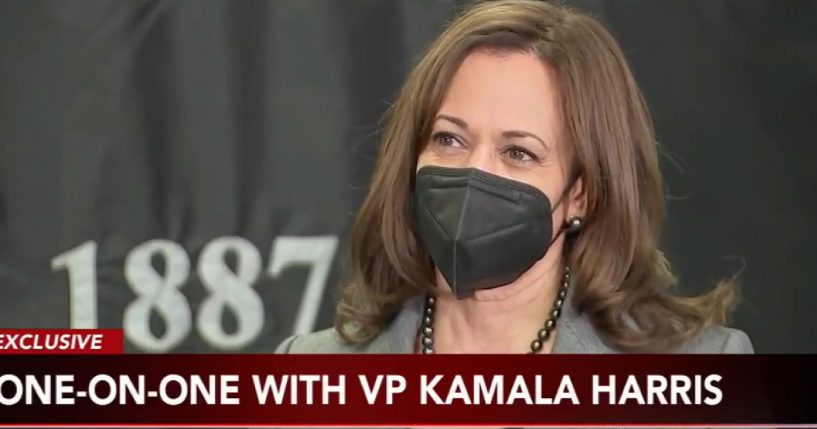 Vice President Kamala Harris is telling people they must "acknowledge that prices are going up."
During an interview with WPVI-TV of Philadelphia, a reporter noted a lot of people "go to the store and don't feel like their wages are going as far as they want them to."
The reporter went on to point out people then "get mad at the gas station."
Advertisement - story continues below
When asked what she has to say to people placing the blame on the administration, Harris replied, "I acknowledge one must acknowledge that prices are going up."
She added, "And that people are working hard and, in many cases, are worried about whether they can get through the end of the month and make it all work."
Watch her comments below:
KAMALA HARRIS: "I acknowledge one must acknowledge that prices are going up" pic.twitter.com/KR1uZZQ9RP

— RNC Research (@RNCResearch) April 13, 2022
Advertisement - story continues below
While delivering remarks from Iowa Tuesday, President Joe Biden attributed the spike in prices to Russian President Vladimir Putin's actions in Ukraine.
"Your family budget, your ability to fill up your tank, none of it should on hinge on whether a dictator declares war and commits genocide a half a world away," Biden said.
Do people need to acknowledge that "prices are going up"?
According to ABC News, a report released by the U.S. Bureau of Labor Statistics found inflation is at its highest point in more than four decades.
"Putin's invasion of Ukraine has driven up gas prices and food prices all over the world," Biden said.
He added, "So everything is going up. We saw it in today's inflation data.
Advertisement - story continues below
Biden argued, "70% of the increase in prices in March came from Putin's price hike in gasoline."
To soften the blow of the spike in gas prices, the president announced the Environmental Protection Agency is "planning to issue an emergency waiver to allow E15 gasoline that uses more ethanol from homegrown crops to be sold across the United States this summer in order to increase fuel supply."
Acknowledging it is not going to solve all of the issues, Biden added, "But it's going to help some people and I'm committed to do whatever I can to help. Even if it's an extra buck or two in the pockets."
Earlier this week, CNBC reported the average American driver is currently spending 2.24% of their monthly income on gas.
Advertisement - story continues below
It is reported that average gas prices this summer are expected to average $3.84 a gallon.
Truth and Accuracy
We are committed to truth and accuracy in all of our journalism. Read our editorial standards.
Comment Down Below
Conversation