Commentary
Karine Jean-Pierre Calls 'MAGA Republicans' an 'Extreme Threat to Our Democracy'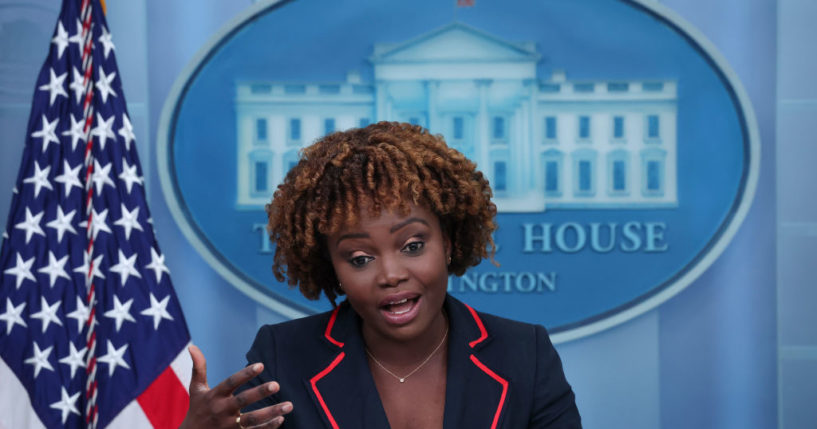 White House Press Secretary Karine Jean-Pierre is picking up on her boss's example and labeling large swaths of the country a threat.
During a press conference on Wednesday, Jean-Pierre was asked what President Joe Biden is going to speak about during his prime-time address.
"I don't want to get ahead of the president's speech. It's not a good thing to do, as you know," Jean-Pierre responded.
Advertisement - story continues below
She continued, "You know, the president thinks that there is an extremist threat to our democracy. The president has been clear as he can be on that particular piece. When we talk about our democracy, when we talk about our freedoms, the way that he sees it is the MAGA Republicans are the most energized part of the Republican Party."
"This is an extreme threat to our democracy, to our freedom, to our rights," she added. "They just don't respect the rule of law. You've heard that from the president. And, you know, they are pursuing an agenda that takes away people's rights."
Watch the video below:
Karine Jean-Pierre says that "MAGA Republicans" are "an extreme threat to our democracy." pic.twitter.com/1Kpvl11B0B

— Townhall.com (@townhallcom) August 31, 2022
Advertisement - story continues below
This comes after Biden labeled the "extreme MAGA" philosophy "semi-fascism."
He then went on to suggest that most Republicans ascribe to that philosophy as he claimed there are "not many real Republicans anymore."
"They're a threat to our very democracy. They refuse to accept the will of the people. They embrace political violence. They don't believe in democracy," Biden added.
There is a certain sect of Americans who believe, or at least claim to believe, in policies advanced by former President Donald Trump and his allies in Congress and government that refuse to accept the results of the 2020 election.
There are also people who would probably align themselves with Trump who are willing to use violence to try to further their interests — just look at those who fought with law enforcement on Jan. 6. And those people should be called out and condemned.
Advertisement - story continues below
But to look at the small group of people and decide most Republicans approve of those tactics — which Biden did by claiming that there are not that many 'real Republicans' — is just divisive and not even accurate.
It ignores the fact that there are millions of Americans who want to be able to raise their families and live how they want and pass on a secure and prosperous country to their children who vote for Republicans not because they love Trump and Madison Cawthorn, but because they don't want the government regulating every aspect of their lives. And they look at the Democrats and think, "I don't really like Trump, but defund the police and keeping masks on kids for years and abortion on demand aren't for me."
Jean-Pierre also claimed that "MAGA Republicans" are "pursuing an agenda that takes away people's rights," she is obviously pointing to abortion restrictions — which were left up to the states and voters to decide which regulations they want.
Other than that, these fearmongering claims that Republicans want to end interracial marriage or ban LGBT students from classrooms are found nowhere in mainstream conservative circles.
Advertisement - story continues below
And Democrats' "Jim Crow" claims about voting laws passed by Republicans have so far been found to be wildly exaggerated.
It's not good to label large swaths of the country a threat. It's even worse when you're doing it based on exaggerated claims and, in some cases, ideas that appear to be pulled out of thin air.
And it's a little bit Orwellian to talk about not adhering to the rule of law when Biden continues to take action — extending the eviction moratorium and student debt cancellation — after previously stating in no uncertain terms that he did not have the authority to do.
Truth and Accuracy
We are committed to truth and accuracy in all of our journalism. Read our editorial standards.
Comment Down Below
Conversation