News
Kayleigh McEnany's Sister Announces She Is Launching a Dating App Targeted at Conservatives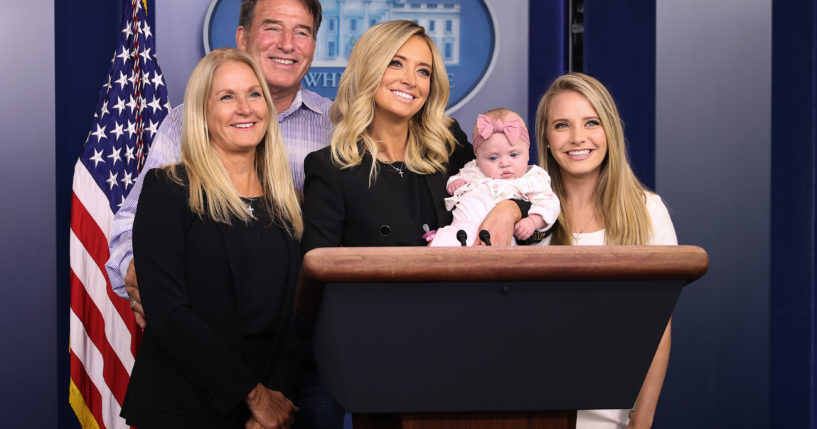 Former White House Press Secretary Kayleigh McEnany's sister, Ryann McEnany, is launching her own dating app for conservatives.
Ryann McEnany shared the details in a video message posted by the app's Twitter account.
"It's called the Right Stuff and it's launching this September," Ryann McEnany said.
Advertisement - story continues below
She explained that the app is invite only and free to use.
"And for my ladies, you'll never have to pay because we all get premium subscriptions," Ryann McEnany explained.
Taking a swipe at gender pronouns, she said, "Those are the only two options, ladies and gentleman."
Check out the video below:
Advertisement - story continues below
The countdown begins… @RyannMcEnany pic.twitter.com/75WQ79B8Bc

— The Right Stuff (@daterightstuff) August 10, 2022
According to the website, the app was "created for conservatives to connect in authentic and meaningful ways. Other dating apps have gone woke. We bring people together with shared values and similar passions."
Former Trump White House staffers John McEntee and Daniel Huff co-founded the app.
Last month, The Hill spoke with Huff as part of a profile on the app.
"What we're doing has really not been done before. No one has built a high quality, properly funded app with a dedicated team," Huff said.
Advertisement - story continues below
He added, "It's an important, underserved market."
Huff suggested that "Liberals own the education, media corporations, and we can't let them control our personal relationships."
The outlet noted tech billionaire Peter Thiel has invested roughly $1.5 million into the app.
One of the features involves users advertising potential dates.
Advertisement - story continues below
"Basically, 'Oh, I got two tickets to a ballgame, who wants to go?' And then, you know, multiple people can say, 'Hey, I'm interested,' and then you wind up in picking one," Huff explained.
He continued, "It's an idea of getting people out on fun dates, instead of just sitting on the phone, you know, messaging back and forth."
Truth and Accuracy
We are committed to truth and accuracy in all of our journalism. Read our editorial standards.
Comment Down Below
Conversation