News
Kyrsten Sinema Slams Former Colleagues as 'Old Dudes' Who Are 'Eating Jell-O'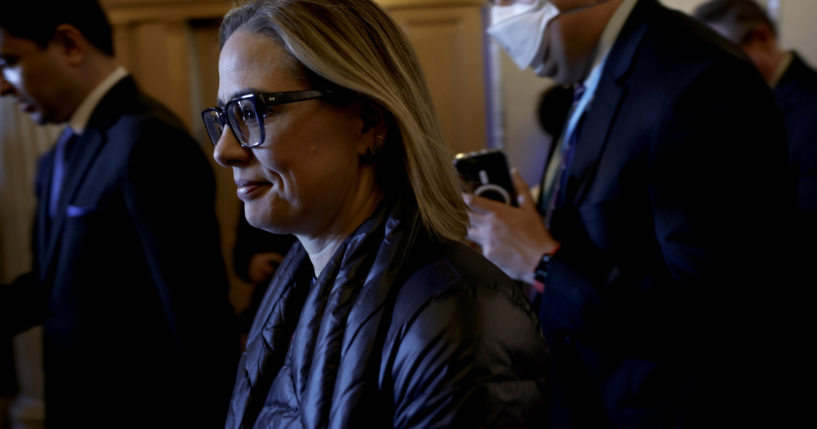 Sen. Kyrsten Sinema (I-Ariz.) did not hold back on her criticism of her former Democratic colleagues.
Politico reported on Thursday Sinema has recently taken the opportunity during "Republican-dominated" receptions and retreats to take shots at her former colleagues.
Additionally, she has gone on to praise her Republican allies and given the middle finger to the current White House, per Politico.
Advertisement - story continues below
In private, Sinema is reportedly more harsh.
She is not particularly fond of Senate Majority Leader Chuck Schumer (D-N.Y.) whom she "derides in harshly critical terms," according to Republican officials familiar with the comments.
An attendee of the caucus' weekly luncheons in the Capitol told Politico, Sinema said she had stopped attending them because "those lunches were ridiculous."
Sinema explained, "I'm not caucusing with the Democrats, I'm formally aligned with the Democrats for committee purposes."
Advertisement - story continues below
She added, "But apart from that I am not a part of the caucus."
The lawmaker then reportedly went off about her former colleagues, saying, "Old dudes are eating Jell-O, everyone is talking about how great they are."
She continued, "I don't really need to be there for that. That's an hour and a half twice a week that I can get back."
Sinema claimed the "Northerners and the Westerners put cool whip on their Jell-O," adding, "And the Southerners put cottage cheese."
The former Democrat stressed she had more important things to do than "those dumb lunches."
Advertisement - story continues below
"I spend my days doing productive work, which is why I've been able to lead every bipartisan vote that's happened the last two years," Sinema said, as Politico reported.
In December 2022, Sinema made the announcement that she would be registering as an Arizona Independent, as IJR reported.
In a statement, she shared she had "joined the growing numbers of Arizonans who reject party politics by declaring my independence from the broken partisan system in Washington."
Truth and Accuracy
We are committed to truth and accuracy in all of our journalism. Read our editorial standards.
Comment Down Below
Conversation