News
Lauren Boebert Leading Resolution to Declare Runner-Up to Lia Thomas the Winner of Swimming Event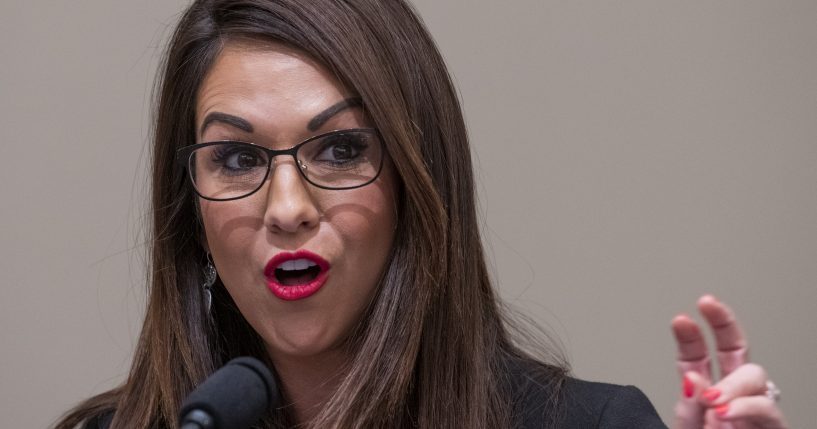 Rep. Lauren Boebert (R-Colo.) announced she is leading a resolution to recognize the runner-up to swimmer Lia Thomas as the winner of an event, saying she has "had enough of the woke foolishness."
She tweeted on Wednesday, "I'm leading a House Resolution to declare Emma Weyant the winner of the NCAA Women's 500 yard freestyle swim. You cannot be a man and win a women's swimming race."
I've had enough of the woke foolishness.

I'm leading a House Resolution to declare Emma Weyant the winner of the NCAA Women's 500 yard freestyle swim.

You cannot be a man and win a women's swimming race. https://t.co/wBalaXrC7b

— Lauren Boebert (@laurenboebert) March 30, 2022
Advertisement - story continues below
Thomas became the first transgender athlete to win an NCAA Division I championship.
Boebert told Fox News Digital, "It's the women's race, and a man improperly took the first place title from Emma."
She continued, "When it comes to competitive sports, biology should really triumph (over) ideology."
The Republican said she believes "in giving honor where honor is due and Emma is absolutely worthy of honor."
Advertisement - story continues below
Boebert suggested the "mediocre male athletes who want first place rather than 450th should simply try harder and not pretend to be something that they're not."
When asked whether the bill is a political ploy, Boebert told the outlet, "It's a very cheap ploy of Lia Thomas to do what he's done. That's what's a cheap ploy here. For a male athlete who was ranking 450th in his own division to pretend to be a woman, so he can then go and crush women's dreams and careers."
Do you support the resolution?
Her announcement comes a little over a week after Florida Gov. Ron DeSantis (R) declared Weyant the rightful winner of the event, as IJR reported.
"By allowing men to compete in women's sports, the NCAA is destroying opportunities for women, making a mockery of its championships, and perpetuating a fraud," DeSantis said in a tweet.
He added, "In Florida, we reject these lies and recognize Sarasota's Emma Weyant as the best women's swimmer in the 500y freestyle."
Truth and Accuracy
We are committed to truth and accuracy in all of our journalism. Read our editorial standards.
Comment Down Below
Conversation