News
'Capital B': Manchin Reacts to Report He Is Considering Switching Parties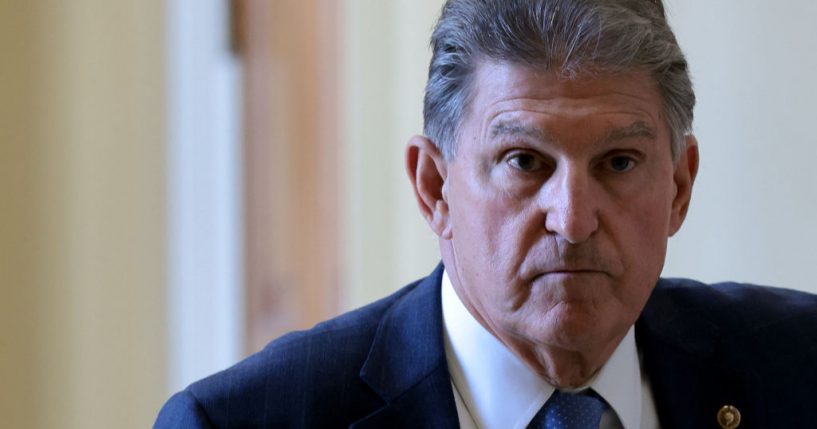 Sen. Joe Manchin (D-W.Va.) is smacking down a report that he is considering switching parties.
Speaking to reporters on Wednesday, Manchin said, "I can't control rumors, and it's bullsh*t, bullsh*t spelled with a B, U, L, L, capital 'B.'"
Watch the video below:
Advertisement - story continues below
MANCHIN to @burgessev and me on the report he is threatening to leave the Democratic Party if his demands are not met on infrastructure: "I can't control rumors and it's bullshit, bullshit spelled with a B, U, L, L, capital 'B'": pic.twitter.com/ex8iHMIiSs

— Frank Thorp V (@frankthorp) October 20, 2021
Mother Jones' David Corn reported on Wednesday that Manchin "has told associates that he is considering leaving the Democratic Party if President Joe Biden and Democrats on Capitol Hill do not agree to his demand to cut the size of the social infrastructure bill from $3.5 trillion to $1.75 trillion, according to people who have heard Manchin discuss this."
"Manchin has said that if this were to happen, he would declare himself an 'American Independent.' And he has devised a detailed exit strategy for his departure," Corn added.
The Senate is currently split 50-50 between Democrats and Republicans.
Advertisement - story continues below
If Manchin were to switch parties or become an independent, it could dramatically shift the balance of power in the chamber and pose a significant challenge to Biden's agenda and efforts to pass a massive $3.5 trillion spending bill. Without his vote, Democrats would be unable to pass the bill.
However, Corn said it is "unclear whether in this scenario Manchin would end up caucusing with the Democrats, which would allow them to continue to control the Senate, or side with the Republicans and place the Senate in GOP hands."
Truth and Accuracy
We are committed to truth and accuracy in all of our journalism. Read our editorial standards.
Comment Down Below
Conversation