News
Marine Corps Spox Reacts to Marine's Claim He Lifted Baby Over Wall at Kabul Airport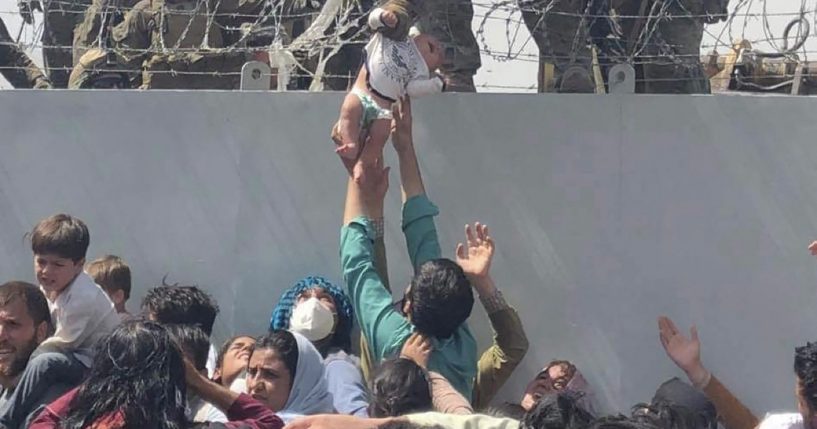 A U.S. Marine Corps spokesperson is weighing in on whether Lance Cpl. Hunter Clark was the Marine in the viral video which showed a troop hoisting a baby over a wall at the Kabul airport in Afghanistan.
Former President Donald Trump held a rally in Georgia over the weekend and invited Clark to the stage, seemingly suggesting he was the one who appeared in the viral video.
"We're also honored to be joined by one of the Marines who bravely served in Kabul during the withdrawal," Trump said, "And helped evacuate children over … the airport wall. You saw him. He did a great job."
Advertisement - story continues below
In case you missed it:
Nothing but heartbreaking scenes from #Afghanistan. A baby is pulled over a wall by U.S. soldiers. The Afghans are truly running for their lives. Life under the #Taliban. pic.twitter.com/bnVN3LoceT

— Steve Hanke (@steve_hanke) August 19, 2021
Telling the audience he is "the guy that pulled the baby over the wall," Clark explained, "It's definitely probably one of the greatest things I've ever done in my entire life."
Clark additionally thanked the audience for their support, adding, "It really means a lot and I'm glad to be home now today. Thank you."
Advertisement - story continues below
We are so thankful for the men who have served this country. Thank you, President Trump for recognizing the heroic actions of LCpl Hunter Clark!

Thank you, LCpl Clark! pic.twitter.com/qP43JIn2pe

— RSBN 🇺🇸 (@RSBNetwork) September 26, 2021
Kelton Cochran, a spokesman for the 24th Marine Expeditionary Unit, said in a statement that Clark's claims were not exactly accurate.
"Regarding the viral photo that began circulating around August 20, 2021, the Marine identified in that particular image was not LCpl Clark," Cochran said, according to CNN.
He continued, "The 24th Marine Expeditionary Unit (MEU) has initiated a command investigation regarding LCpl Hunter Clark's attendance at the event last weekend to determine if any DoD policies were violated."
According to Cochran, "details pertaining to this incident are not releasable while the investigation is being conducted."
Advertisement - story continues below
Trump has repeatedly blasted President Joe Biden for his handling of the withdrawal from Afghanistan. On Tuesday, the former president released a statement suggesting the withdrawal "was developed by a child's mind, and only the Biden Administration is responsible for it."
Concluding his criticism, Trump called it "one of the dumbest Military moves in history."
Truth and Accuracy
We are committed to truth and accuracy in all of our journalism. Read our editorial standards.
Comment Down Below
Conversation