News
Marjorie Taylor Greene Owns Stock in Major Vaccine Makers: Report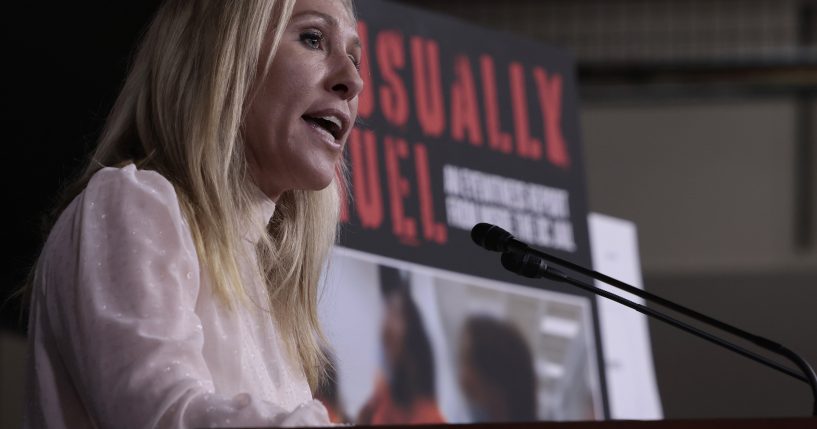 Rep. Marjorie Taylor Greene (R-Ga.) reportedly owns stock in vaccine makers AstraZeneca, Pfizer, and Johnson & Johnson.
According to Insider, Greene owns stock in the companies, each worth between $1,000 and $15,000, citing an August 13, 2020, filing from Greene.
Insider discovered the information as part of the publication's Conflicted Congress project, showing several lawmakers held stock in vaccine makers.
Advertisement - story continues below
"The project found that at least 13 senators and 35 US representatives held shares in Johnson & Johnson, 11 senators and 34 representatives held shares in Pfizer, and two representatives or their spouses held shares of Moderna," Insider reported.
Last month, Greene revealed she had not been vaccinated against the virus.
"I haven't been making it public, but I started making it public because it's such an issue. I'm not vaccinated," Greene said.
She continued, "I believe it's up to every single American to make that choice on their own, and the government has no business to tell Americans that they should take the Covid vaccine or not."
Advertisement - story continues below
In August, Twitter suspended Greene after suggesting the Food and Drug Administration "should not approve the covid vaccines."
Additionally, she claimed vaccines were "failing" and ineffective at reducing the spread of the virus.
According to a company spokesperson, the tweet "was labeled in line with our COVID-19 misleading information policy. The account will be in read-only mode for a week due to repeated violations of the Twitter Rules."
Twitter's policy states, "Content that is demonstrably false or misleading and may lead to significant risk of harm (such as increased exposure to the virus, or adverse effects on public health systems) may not be shared" on the platform.
It continues, "This includes sharing content that may mislead people about the nature of the COVID-19 virus; the efficacy and/or safety of preventative measures, treatments, or other precautions to mitigate or treat the disease; official regulations, restrictions, or exemptions pertaining to health advisories; or the prevalence of the virus or risk of infection or death associated with COVID-19." 
Truth and Accuracy
We are committed to truth and accuracy in all of our journalism. Read our editorial standards.
Comment Down Below
Conversation