News
Marjorie Taylor Greene's Twitter Account Permanently Suspended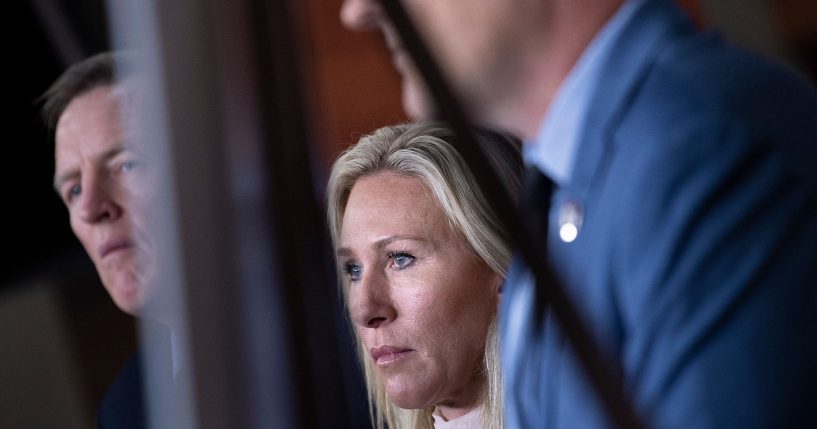 Rep. Majorie Taylor Greene's (R-Ga.) Twitter account was permanently suspended for "repeated violations" of the social media platform's COVID-19 misinformation policy.
A Twitter spokesperson said to The Hill in a statement, "We've been clear that, per our strike system for this policy, we will permanently suspend accounts for repeated violations of the policy."
Greene later posted a statement to Telegram responding to the suspension.
Advertisement - story continues below
"Maxine Waters can go to the streets and threaten violence on Twitter, Kamala and Ilhan can bail out Black Lives Matter terrorists on Twitter, CNN and the rest of the Democrat Propaganda Media can spread Russia collusion lies, and just yesterday the Chief spokesman for terrorist IRGC can tweet mourning Soleimani, but I get suspended for tweeting VAERS statistics," Greene wrote.
She claimed Twitter is the "enemy to America and can't handle the truth."
Greene added, "That's fine, I'll show America we don't need them and it's time to defeat our enemies."
Closing her statement, Greene declared, "I stand with the truth and the people. We will overcome!"
Advertisement - story continues below
According to Twitter's guidelines, "Content that is demonstrably false or misleading and may lead to significant risk of harm (such as increased exposure to the virus, or adverse effects on public health systems) may not be shared on Twitter."
The guidelines continue, "This includes sharing content that may mislead people about the nature of the COVID-19 virus; the efficacy and/or safety of preventative measures, treatments, or other precautions to mitigate or treat the disease; official regulations, restrictions, or exemptions pertaining to health advisories; or the prevalence of the virus or risk of infection or death associated with COVID-19."
Do you agree with Twitter's decision?
In August, Twitter suspended Greene's account for one week after suggesting that the Food and Drug Administration "should not approve the covid vaccines."
Additionally, she argued the vaccines were "failing" and ineffective at reducing the spread of the virus.
Truth and Accuracy
We are committed to truth and accuracy in all of our journalism. Read our editorial standards.
Comment Down Below
Conversation