News
McAuliffe Says 'They Took the Votes Away' From Stacey Abrams — 1 Day After Decrying Voter Fraud Claims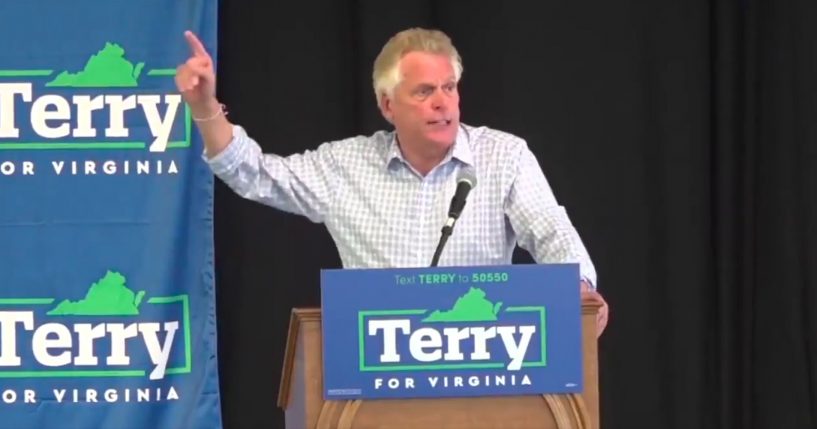 Virginia Democratic gubernatorial nominee Terry McAuliffe insisted that former Georgia Democratic gubernatorial hopeful Stacey Abrams' had her election stolen.
On Saturday, McAuliffe blasted his Republican competitor, Glenn Youngkin, during an appearance on MSNBC as he accused him of "running down the democracy, saying that our elections are not fair."
But during a rally on Sunday, he addressed Abrams' failed bid for governor and refusal to concede the election.
Advertisement - story continues below
"She would be the governor of Georgia today had the governor of Georgia not disenfranchised 1.4 million Georgia voters before the election," he said, adding, "That's what happened to Stacey Abrams. They took the votes away."
Watch the video below:
This morning, Terry McAuliffe claimed the 2018 election in Georgia was stolen from Stacey Abrams.

"They took the votes away," he said, one day after saying this kind of talk is "running down our democracy." pic.twitter.com/U1CsMimzX7

— Glenn Youngkin (@GlennYoungkin) October 24, 2021
McAuliffe's comments referenced claims that then-Georgia Secretary of State Brian Kemp (R) used his office to suppress votes and win the gubernatorial election.
Advertisement - story continues below
As USA Today explains, "During [Kemp's] tenure in that role, he trimmed more than 1.4 million inactive voters, with low-income and minority Georgians most likely to have their registrations canceled, according to the Atlanta Journal Constitution. Over 668,000 of those registrations were canceled in 2017. In the lead-up to the 2018 election, Georgia put 53,000 voter registrations on hold, the majority of them Black voters, for additional screening."
"Claims of broken voter machines, showing votes cast for Abrams as registering for Kemp arose, and 85,000 more voters were purged from rolls in the three months leading up to the election. Kemp has repeatedly denied he attempted to suppress the vote," the paper added.
Additionally, USA Today's fact-checkers noted that Abrams lost her election by roughly 55,000 votes, and she did not concede as she claimed her loss was the result of voter suppression.
Finally, the paper said, "While Abrams has maintained the 2018 gubernatorial election was unfair and tainted by voter suppression, there's no empirical evidence that now-Gov. Kemp stole that election from her. She did register over 800,000 new voters in time for the 2020 election, with help from other activists. We rate the claim PARTLY FALSE, because some of it is not supported by our research."
McAuliffe has tried to tie Youngkin to former President Donald Trump's "conspiracy theories" about the 2020 election.
Advertisement - story continues below
As Reuters notes, Youngkin has received the former president's endorsement. However, he "has called [President Joe Biden's] victory 'certifiably fair.'"
"He has made more nuanced statements about election integrity, saying this month that Virginia's voting machines need to be audited, something which is already done," the outlet added.
Truth and Accuracy
We are committed to truth and accuracy in all of our journalism. Read our editorial standards.
Comment Down Below
Conversation