News
McCarthy Takes Aim at Biden Over Inflation With GIF Highlighting Higher Cost of Thanksgiving Meal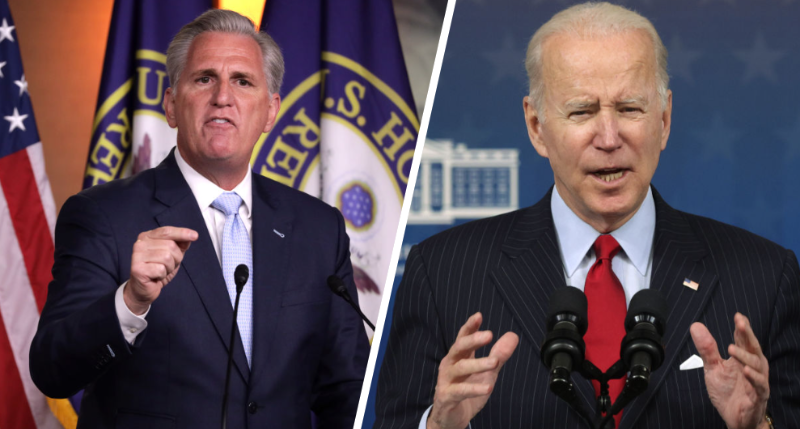 House Minority Leader Kevin McCarthy (R-Calif.) is taking aim at President Joe Biden for continuing his tradition of spending Thanksgiving in Nantucket, Massachusetts.
In a tweet on Wednesday, McCarthy wrote, "Dear President Biden, While you are in Nantucket, enjoying your meals at a billionaire's compound, here are the prices that Americans are paying for their Thanksgiving dinner—the most expensive one in history."
According to the tweet, the cost of a Thanksgiving meal this year is "up $10 from last year."
Advertisement - story continues below
The GIF goes on to share examples of different parts of a Thanksgiving meal that cost more this year.
Biden and First Lady Jill Biden will be spending Thanksgiving in Nantucket, Massachusetts.
According to Fox News, the Bidens "will spend Thanksgiving at the compound of David Rubenstein, a Carlyle Group co-founder."
Advertisement - story continues below
"Spending Thanksgiving in Nantucket is a tradition of the Biden family dating back decades, but it was put on hold last year due to the pandemic. The White House told reporters earlier Tuesday that the Bidens have previously stayed at Rubenstein's home," the outlet added.
However, the decision to spend the holiday at the private equity billionaire's home has drawn criticism from Republicans while the pace of inflation has hit a 30-year high.
McCarthy's GIF appeared to be a shot at a tweet sent from the White House's Twitter account this year that touted that the average cost of a 4th of July cookout was expected to be 16 cents cheaper than a year ago.
Planning a cookout this year? Ketchup on the news. According to the Farm Bureau, the cost of a 4th of July BBQ is down from last year. It's a fact you must-hear(d). Hot dog, the Biden economic plan is working. And that's something we can all relish. pic.twitter.com/7h9qLauIbC

— The White House (@WhiteHouse) July 1, 2021
McCarthy's tweet comes as a Yahoo News/YouGov poll released on Tuesday found that 77% of Americans say inflation is affecting them personally. Additionally, 55% say they blame Biden for the price increases.
Advertisement - story continues below
While 17% of respondents listed inflation as the "most important issue facing America," 15% said COVID-19 is.
Truth and Accuracy
We are committed to truth and accuracy in all of our journalism. Read our editorial standards.
Comment Down Below
Conversation