News
McCarthy Urges Pelosi To 'Bring Us Back Into Session' Following Kabul Airport Attack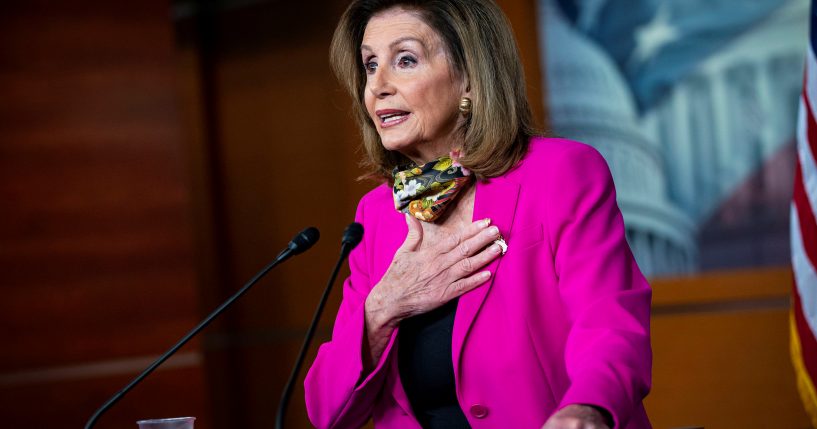 House Minority Leader Kevin McCarthy (R-Calif.) is urging House Speaker Nancy Pelosi (D-Calif.) to "bring us back into session" to make sure Americans are able to leave Afghanistan.
McCarthy said during a Fox News interview Friday, "Not only are we less safe there, but we are also less safe in America today. As you've reported, he's opened our border. Long before this collapse in Afghanistan, we have been catching people on the terrorist watch list coming across our border from Yemen. Not on the same day either." 
He asked, "What's going to happen now where we're watching ISIS grow again in Afghanistan, when 5,000 prisoners were released inside Afghanistan, when they now know where they can come to America?"
Advertisement - story continues below
The House minority leader noted "we're less than three weeks from the anniversary of 9/11 and this administration has put America in this position, this is unacceptable."
McCarthy said Pelosi needs to "bring us back into session, bring up this bill, move this deadline and make sure every single American is able to leave Afghanistan."
Watch McCarthy's comments below:
Advertisement - story continues below
Should Pelosi bring lawmakers back to Washington, D.C.?
The bill would prohibit the withdrawal of U.S. troops from Afghanistan until all Americans that are left are out. McCarthy made similar comments on Twitter Thursday, as IJR reported.
Pelosi's Deputy Chief of Staff Drew Hammill responded, saying, "Right now, American heroes are risking & giving their lives to execute an extraordinarily dangerous evacuation, & the Minority Leader wants to defund the mission & tie the Commander in Chief's hands in the middle of the most dangerous days of the operation."
He continued, "What's not going to help evacuate American citizens is more empty stunts & distraction from the Minority Leader who sat idly by as Pres. Trump proudly negotiated with the Taliban. The Biden Administration has repeatedly briefed the Congress & providing frequent updates each day."
Advertisement - story continues below
McCarthy's comments come just one day after an explosion near Hamid Karzai International Airport in Kabul killed 13 U.S. service members and injured 18.
Truth and Accuracy
We are committed to truth and accuracy in all of our journalism. Read our editorial standards.
Conversation