'I've Had It With Her': McCarthy Reportedly Caught On Hot Mic Trashing Cheney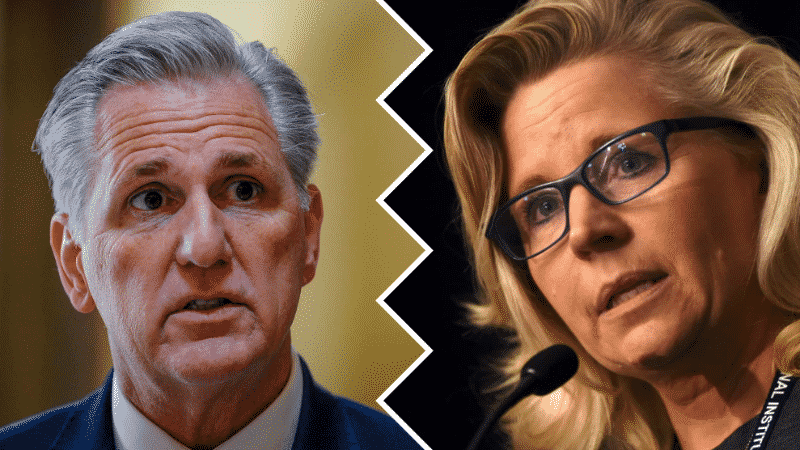 House Minority Leader Kevin McCarthy (R-Calif.) has publicly said that the House Republican conference will decide whether Rep. Liz Cheney (R-Wyo.), the No. 3 Republican in the chamber, should remain in her leadership role.
But, in private, the California Republican is reportedly admitting that he has lost confidence in her.
Axios reported on Tuesday that McCarthy was caught on a hot mic venting about the Wyoming Republican ahead of an interview on "Fox & Friends."
"I think she's got real problems," he told Fox News' Steve Doocey.
He continued, "I've had it with … I've had it with her. You know, I've lost confidence. … Well, someone just has to bring a motion, but I assume that will probably take place."
McCarthy's comments come amid reports that House Republican leaders are looking for someone to replace Cheney. Punchbowl News reported on Tuesday morning that Republicans are frustrated with her "near-constant truth-telling about former President Donald Trump."
During an interview on "Fox & Friends," McCarthy said, "There's no concern about how she voted on impeachment. That decision has been made."
"I have heard from members concerned about her ability to carry out the job as conference chair, to carry out the message. We all need to be working as one if we're able to win the majority. Remember, majorities are not given, they are earned. And that's about the message about going forward," he added.
Later in the day, McCarthy was asked if he would call for a vote to strip Cheney of her leadership role, he said, "The conference will decide that. We're here talking about small business."
In Georgia, House GOP Leader Kevin McCarthy dodged a question on whether he'd call for a vote to oust Liz Cheney from her No. 3 post. "The conference will decide that. We're here talking about small business." But McCarthy has the power to call for a quick election if he wants

— Manu Raju (@mkraju) May 4, 2021
A spokesman for Cheney responded to McCarthy's comments in a statement saying, "This is about whether the Republican Party is going to perpetuate lies about the 2020 election and attempt to whitewash what happened on January 6. Liz will not do that. That is the issue."