News
McEnany Accuses Psaki of Using MSNBC 'Buzzwords' to Comment on Rittenhouse Trial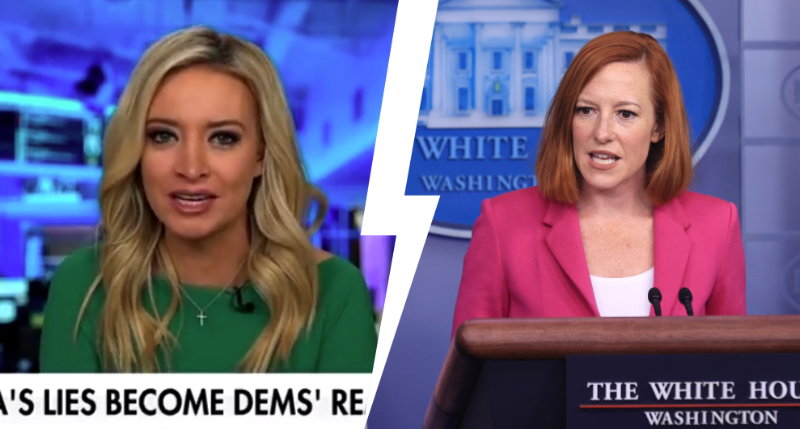 Kayleigh McEnany is ripping into White House Press Secretary Jen Psaki over an answer she gave in response to a question about the murder trial of Kyle Rittenhouse.
During an appearance on Fox News' "Hannity" Monday, McEnany, who was former President Donald Trump's press secretary, said, "Let me say how deeply irresponsible of Jen Psaki to say what she said. If you really don't want to comment on an ongoing case, guess what, Sean, you don't comment on an ongoing case."
"But Jen Psaki said, 'I won't comment on an ongoing case.' But wink, wink, nudge, nudge, we're against the vigilante with an assault rifle. A.k.a those are the buzzwords of MSNBC, those are the budge words of CNN."
Advertisement - story continues below
Watch the video below:
Kayleigh calls Jen Psaki irresponsible for saying "the President's view that we shouldn't have(broadly speaking)vigilantes patrolling our communities with assault weapons" pic.twitter.com/TfO2xxnJrR

— Acyn (@Acyn) November 16, 2021
During the 2020 presidential campaign, then-candidate Joe Biden released a video attacking Trump after he "refused to disavow white supremacists" during a debate.
The video showed pictures of white supremacists and militia groups in various cities. The video also included Rittenhouse's picture.
Advertisement - story continues below
In case you missed it:
There's no other way to put it: the President of the United States refused to disavow white supremacists on the debate stage last night. pic.twitter.com/Q3VZTW1vUV

— Joe Biden (@JoeBiden) September 30, 2020
During a press briefing on Monday, Fox News' Peter Doocy asked Psaki, "Why did President Biden suggest that Kyle Rittenhouse, on trial in Kenosha, is a white supremacist?"
"What I'm not going to speak to right now is anything about an ongoing trial, nor the president's past comments," Psaki responded.
She added, "What I can reiterate for you is the president's view that we shouldn't have, broadly speaking, vigilantes patrolling our communities with assault weapons. We shouldn't have opportunists corrupting peaceful protests by rioting and burning down the communities they claim to represent."
Advertisement - story continues below
McEnany's comments refer to labels that MSNBC guests and hosts have applied to Rittenhouse. One guest likened him to a "school shooter" and a "domestic terrorist." Meanwhile, host Joy Reid called him a "vigilante."
As NPR notes, "Rittenhouse was 17 years old when he traveled to Kenosha and armed himself with an AR-15-style rifle. It was a night of unrest in the city, sparked by the police shooting of Jacob Blake, a 29-year-old Black man who was left paralyzed after an encounter with a white officer. Rittenhouse, who lived across the state line in Antioch, Ill., testified that he intended to act as a medic and help protect private property."
"In a series of chaotic encounters with protesters that night, Rittenhouse shot and killed Joseph Rosenbaum, 36, then minutes later shot and killed Anthony Huber, 26, and injured Gaige Grosskreutz, then 26. Rosenbaum was unarmed. Huber was striking Rittenhouse with a skateboard. Grosskreutz was armed with a pistol," it added.
Rittenhouse has denied that he did "anything wrong" and testified that he acted in self-defense. Prosecutors argue he went to Kenosha hoping to cause trouble.
Truth and Accuracy
We are committed to truth and accuracy in all of our journalism. Read our editorial standards.
Comment Down Below
Conversation