News
Meghan McCain Pushes Back Against Mask Mandate: 'I Think This Is Stupid'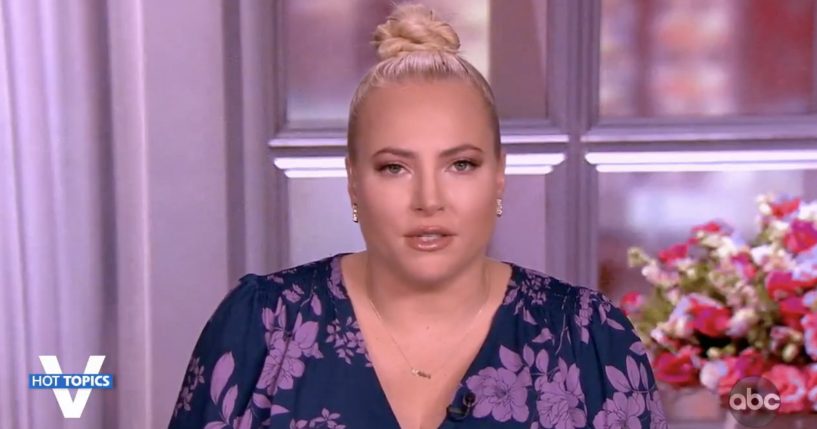 Meghan McCain thinks the U.S. Centers for Disease Control and Prevention's (CDC) revision to mask guidelines is "stupid."
During an episode of "The View" Thursday, the co-hosts weighed in on the updated guidelines. According to the new guidelines, vaccinated individuals should begin wearing masks again in public indoor spaces in parts of the country where COVID-19 is spreading.
When asked for her take, McCain explained, "When the mask mandate was reenacted in D.C., I was surprised because D.C. has one of the highest vaccination rates in the country as well as having one of the lowest hospitalization and death rates."
Advertisement - story continues below
She added, "If you are going to enact these mandates in a place like D.C., then if D.C. isn't good enough in any of this, then I guess no other state will."
Watch the video below:
WHAT WILL CHANGE MINDS OF UNVACCINATED? As the delta variant continues to spread, the CDC is telling people to put their masks back on in certain places even if you're vaccinated — the co-hosts react and weigh in on more companies mandating vaccines. https://t.co/AhpC1le5uq pic.twitter.com/2STFSabZt8

— The View (@TheView) July 29, 2021
The co-host mentioned a law signed by Arizona Gov. Doug Ducey (R) that says there will be no mask mandate in the state and there will also be no vaccine passports.
Advertisement - story continues below
McCain recognized "following the science is important," adding, "Look. I think this is stupid. I don't want to wear a mask anymore. I will because I have to, and ABC mandates it now back in this company."
She asked, "I wonder what's going to happen going into the fall as the regular flu comes along with obviously more and more variants?"
Do you think it is "stupid?"
Warning of a "completely divided America," McCain suggested people will not "want to live under these restrictions and are willing to take the risk no matter the judgment of people on this panel and people in politics."
McCain continued, "And they are willing to take the risk and live in a state that is freer and then we'll see other people that are more comfortable living in places like D.C. and New York and California that will continue to have mask mandates forever, and probably having some form of lockdowns going into the fall."
The CDC revised its guidance Tuesday. Dr. Rochelle Walensky, director of the CDC, said during a briefing about the changes, there is new scientific evidence "showing that the Delta variant behaves uniquely differently from past strains of the virus that cause Covid-19."
Advertisement - story continues below
Walensky also claimed, "This is not a decision that we or CDC has made lightly."
Meanwhile, several Republicans are speaking out against an order from the Capitol Hill physician to wear masks inside the Capitol.
Truth and Accuracy
We are committed to truth and accuracy in all of our journalism. Read our editorial standards.
Comment Down Below
Conversation