News
Melania Trump Speaks Out About Baby Formula Shortage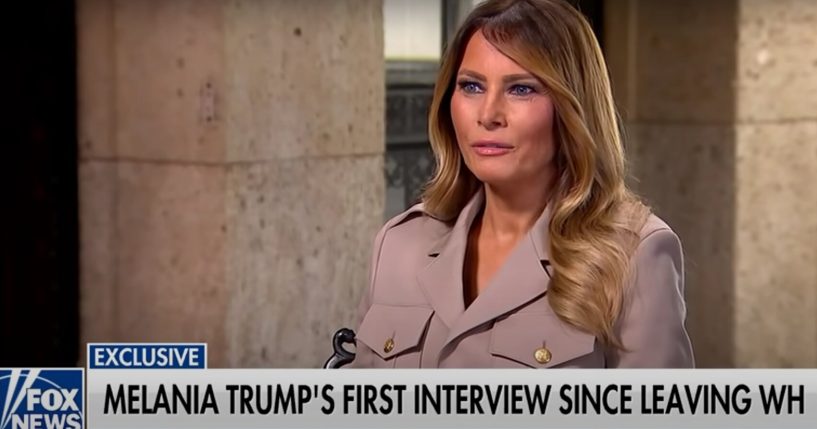 Former First Lady Melania Trump shared her thoughts on the nationwide baby formula shortage, calling it "heartbreaking."
Co-host of "Fox & Friends Weekend" Pete Hegseth asked during the interview, "As someone who loves children and has dedicated so much to their betterment, how do you feel when you see the shortage of baby formula and families just struggling to get basic items like that?"
Trump responded, "It's heartbreaking to see that [families] are struggling, and the food is not available for children in [the] 21st-century in the United States of America."
Advertisement - story continues below
When asked why it is happening, she replied, "Leadership."
Hegseth suggested, "Or lack thereof?"
She agreed with Hegseth.
Additionally, Trump commented on the state of the country.
Advertisement - story continues below
"I think it's sad to see what is going on if you really look deeply into it. I think a lot of people are struggling and suffering and what is going on around the world as well," Trump explained.
Watch Trump's interview below:
Is the lack of leadership to blame?
Last week, The New York Times reported the shortage had been made worse by a recent recall by Abbott Nutrition, a maker of baby food.
"We know that our recent recall caused additional stress and anxiety in an already challenging situation of a global supply shortage," Abbott said in an April statement.
Advertisement - story continues below
The statement continues, "We are working hard to help moms, dads and caregivers get the high-quality nutrition they need for their babies."
Transportation Secretary Pete Buttigieg commented on the Biden administration's attention on the issue during an interview with CBS News over the weekend.
"I think about what that would be like if you're a shift worker with two jobs, maybe you don't have a car, you literally don't have the time or the money to be going from store to store," Buttigieg said.
He added, "That's why this is such a serious issue and that's why it's getting attention at the highest levels, including, of course, direct involvement by the president."
Advertisement - story continues below
CBS News noted the administration is working to expand formula products that can be bought with benefits from the Special Supplemental Nutrition Program for Women, Infants and Children (WIC) program.
The administration is also reportedly working with manufacturers to increase the importation of formula from overseas, as the outlet reported.
The president said there should be "significantly more formula" on shelves in stores in "a matter of weeks."
Truth and Accuracy
We are committed to truth and accuracy in all of our journalism. Read our editorial standards.
Comment Down Below
Conversation