News
Mitch McConnell Hospitalized After Fall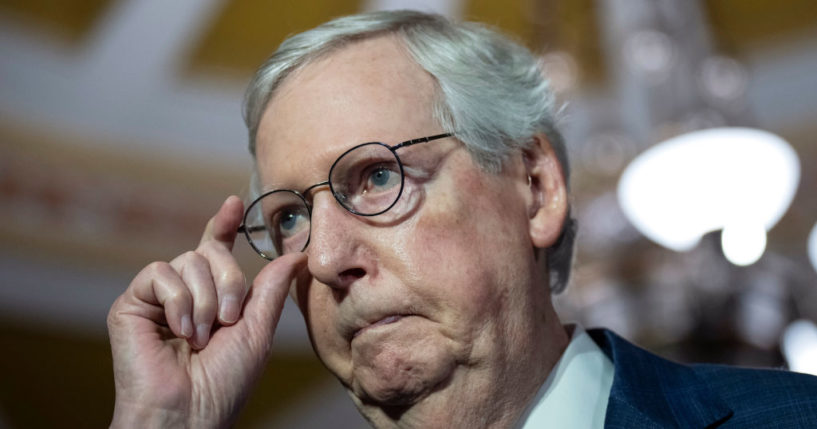 Senate Minority Leader Mitch McConnell (R-Ky.) has been hospitalized after tripping during a dinner.
McConnell's spokesman, Doug Andres, said in a statement after the fall on Wednesday evening, "Leader McConnell tripped at a local hotel during a private dinner."
"He has been admitted to the hospital where he is receiving treatment," he added.
Advertisement - story continues below
However, he did not share details about McConnell's, 81, condition or how long he expected the Republican leader to be out of the Senate.
The Associated Press noted, "In 2019, the GOP leader tripped and fell at his home in Kentucky, suffering a shoulder fracture. At the time, he underwent surgery to repair the fracture in his shoulder. The Senate had just started a summer recess, and he worked from home for some weeks as he recovered."
It also pointed out several senators have already been absent from the chamber due to health reasons:
"Sen. John Fetterman, D-Pa., 53, who suffered a stroke during his campaign last year, was expected to remain out for some weeks as he received care for clinical depression. And Sen. Dianne Feinstein, D-Calif., 89, said last week that she had been hospitalized to be treated for shingles."
Advertisement - story continues below
The New York Times noted McConnell had been in the "Capitol well into the evening, helping to secure a victory for Republicans: an overwhelming Senate vote to overturn a new District of Columbia criminal code that reduces mandatory minimum sentences for some violent offenses" before his fall.
The measure will be sent to President Joe Biden's desk and he is expected to sign it.
McConnell became the longest-serving Senate Republican leader in history after he easily defeated a challenge by Sen. Rick Scott (R-Fla.) last year.
Truth and Accuracy
We are committed to truth and accuracy in all of our journalism. Read our editorial standards.
Comment Down Below
Conversation