News
Mitt Romney Suggests Biden Is Going Down 'the Same Tragic Road' as Trump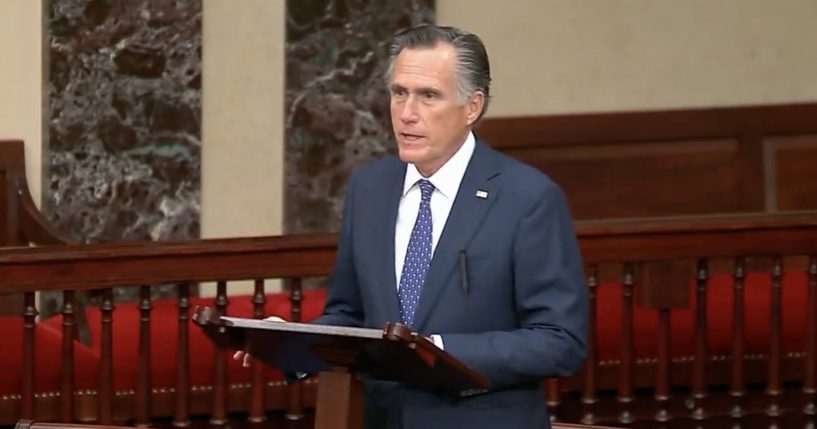 Sen. Mitt Romney (R-Utah) criticized President Joe Biden following his speech on voting rights.
While delivering remarks from the Senate floor on Tuesday, Romney accused Biden of saying "quite a number of things that simply weren't true."
Romney explained, "He also accused a number of my good and principled colleagues of the Senate of having sinister, even racist, inclinations."
Advertisement - story continues below
The senator mentioned a quote by Biden, saying the goal of some Republicans is to "turn the will of the voters into a mere suggestion."
He added, "And so, President Biden goes down the same tragic road taken by President Trump — casting doubt on the reliability of American elections."
Calling it a "sad, sad day," Romney added, "I expected more of President Biden, who came into office with the stated goal of bringing the country together."
Watch his remarks below:
Advertisement - story continues below
Eliminating the filibuster—the 60-vote threshold—makes little sense when Democrats' legislative priorities can't even get 50 votes. Efforts to abolish the filibuster seem like a solution in search of a problem—and one Democrats may soon regret very much. pic.twitter.com/6OzyQamj6u

— Senator Mitt Romney (@SenatorRomney) January 12, 2022
During Biden's speech, he also urged the Senate to change the filibuster rules to pass voting rights legislation.
Is President Biden "casting doubt on the reliability of American elections"?
"I support changing the Senate rules, whichever way they need to be changed to prevent a minority of senators from blocking actions on voting rights," he said.
Romney defended the filibuster, saying, "There is also a reasonable chance Republicans will win both houses in Congress, and that Donald Trump himself could once again be elected president in 2024."
He continued, "Have Democrats thought what it would mean for them — for the Democrat minority — to have no power whatsoever?"
Advertisement - story continues below
Concluding his remarks, Romney said, "How absurd is it, to claim, that to save democracy, a party that represents barely half the country must trample on the rules of our democracy's senior institution."
According to CNN, Senate Majority Leader Chuck Schumer (D-N.Y.) set a deadline for January 17 for a vote on a rules change in the event that Republicans continue to block voting rights legislation.
Truth and Accuracy
We are committed to truth and accuracy in all of our journalism. Read our editorial standards.
Comment Down Below
Conversation