MyPillow Founder's Presence at WH Coronavirus Briefing Stirs up Social Media Controversy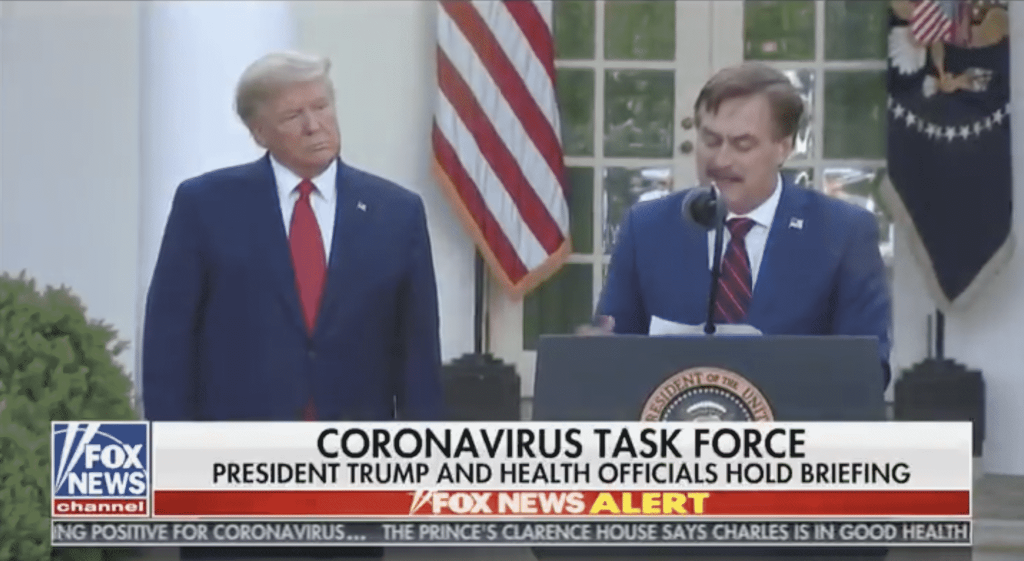 Mike Lindell, the founder of MyPillow, was invited up to the podium during President Donald Trump's press briefing on the coronavirus on Monday.
During his remarks, Lindell said that his company will be producing 50,000 N-95 face masks a day by Friday. His company announced earlier in March that it would begin producing much needed medical supplies.
Additionally, Lindell said that his company had devoted 75% of its production to healthcare supplies to help medical professionals dealing with the coronavirus outbreak.
Watch his comments below:
After saying that My Pillow's factories will be producing 50,000 N95 masks by Friday, Mike Lindell encourages us to read our bibles and spend time with our families.

"With this administration and all the great people in this country praying daily, we will get through this" pic.twitter.com/f1mdtqLYzE

— Daily Caller (@DailyCaller) March 30, 2020
But, Lindell's comments were not without controversy, as he went on to encourage Americans to read the Bible, "God gave us grace on November 8, 2016, to change the course we were on."
He continued, "God had been taken out of our schools [and] lives, a nation had turned its back on God. I encourage you to use this time at home to get back in the Word. Read our Bibles and spend time with our families."
"We will get through this and get back to a place that is stronger and safer than ever," he added.
CNN's media reporter Oliver Darcy pointed out that his network broke away from the briefing once Lindell starting speaking.
CNN cuts away from the White House coronavirus briefing when Trump invites the My Pillow guy up to the podium to talk.

— Oliver Darcy (@oliverdarcy) March 30, 2020
His comments and appearance at the briefing drew sharp criticism on Twitter:
The My Pillow guy is speaking at the Coronavirus task force meeting. Someone reset the simulation, please

— David Pakman (@dpakman) March 30, 2020
Two days ago, I tweeted this.

Right now, Trump has the My Pillow guy speaking in the Rose Garden. https://t.co/tGYtidILaM

— Kevin M. Kruse (@KevinMKruse) March 30, 2020
Trump just called the "My Pillow" guy up to the podium in the Rose Garden. You cannot make this stuff up.

— Ali Velshi (@AliVelshi) March 30, 2020
Once the Trump-aligned My Pillow guy came on to give a free infomercial from the Rose Garden, CNN cuts away– good on them for not giving oxygen to this partisan corporate bullshit.pic.twitter.com/QKsMif8YEu

— Brian Tyler Cohen (@briantylercohen) March 30, 2020
FUN FACT: If the My Pillow guy, Michael Lindell, appears at a briefing, it is no longer a briefing.

— 😷 David Gura 🏡 (@davidgura) March 30, 2020
Now Trump is having the My Pillow guy speak. This is absurd. #StopAiringTrump

— Scott Dworkin (@funder) March 30, 2020
Is that the my pillow guy??Do I need to turn the volume up. I was waiting for the doctors

— Mika Brzezinski (@morningmika) March 30, 2020
So marketing. How much money did the my pillow guy donate to Trump. https://t.co/fcnlmStOHm

— Soledad O'Brien (@soledadobrien) March 30, 2020
However, conservatives argued that he deserved to be there since his company was producing medical supplies:
Right, the "My Pillow guy" is a horrible person for having his entire company manufacture masks for doctors and nurses.
RAGE MOB ENGAGE https://t.co/R4MBqw1tmp

— Dana Loesch (@DLoesch) March 30, 2020
the my pillow guy has done more to combat the spread of coronavirus than 99% of the blue checks whining about him right now

— Logan Hall (@loganclarkhall) March 30, 2020
Hey goofy My Pillow guy is making 50 thousand masks while this douche adds nothing to the world but his own self satisfied finger sniffing https://t.co/iHrC7Vnk7k

— GregGutfeld (@greggutfeld) March 30, 2020
Wow. The amount of journalists/reporters etc. turning their nose up at the My Pillow Guy. I don't care if it's Kermit the Frog making masks for our medical professionals. This is a GOOD THING. So unless you're doing something to help people, sit down.

— Janice Dean (@JaniceDean) March 30, 2020
The My Pillow Guy is a national treasure.

— Kyle Kashuv (@KyleKashuv) March 30, 2020
The media are already attacking My Pillow's @realMikeLindell for talking about God.

It's not because of what he actually said. It's because they desperately need something else to talk about instead of a private business stepping up to donate 50,000 masks.

— Caleb Hull (@CalebJHull) March 30, 2020
The media (who create nothing) mocking the creator of "My Pillow" who retooled his OWN factories to pump out 50K masks per day is emblematic of everything wrong with leftist elitism today.

— Steven Crowder (@scrowder) March 30, 2020
Lindell's comments made My Pillow trend on Twitter as users shared their opinions of his appearance.