News
New Poll Finds Trump Beating Biden in 2024 Match-Up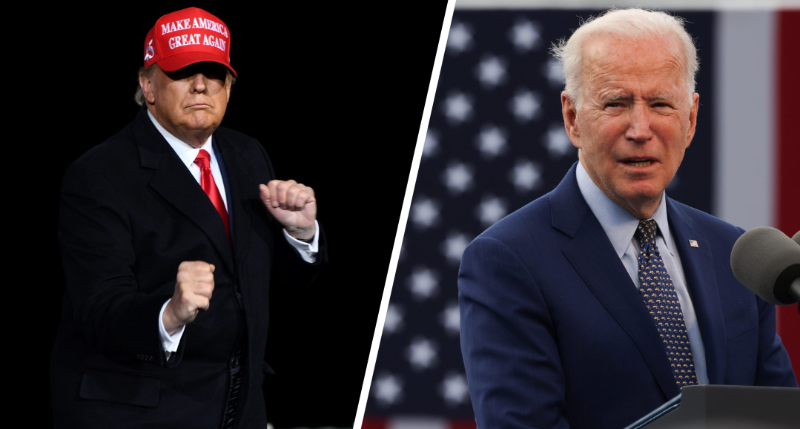 As President Joe Biden's approval ratings are dipping, a new poll finds that a slim majority of voters say they would favor his predecessor in the 2024 presidential election.
A new Emerson College poll shows former President Donald Trump narrowly edging out Biden in a hypothetical 2024 match-up.
Forty-seven percent of respondents said they favor Trump, while 46% said they favor Biden, and 6% said they would prefer someone else, while 2% were undecided.
Advertisement - story continues below
Of the hypothetical Republican candidates, Trump faired the best against Biden.
When Sen. Mitt Romney (R-Utah) was listed as the Republican nominee, 42% of respondents say they favor Biden, while 23% said they favor the Utah senator and 26% said they would prefer someone else.
Florida Gov. Ron DeSantis (R) performed better than Romney, with 36% of voters saying they would favor him. However, 48% of respondents say they would prefer Biden, and 12% said they want someone else while 5% were undecided.
Spencer Kimball, Director of Emerson College Polling, said, "Historically, this data reminds me of 1912 when Teddy Roosevelt failed to win the Republican nomination from then President Taft and created a third party dooming the Republican chances against Woodrow Wilson. This data suggests that Republicans want either Trump or a Trumpian candidate to be their nominee, or half of them may split from the party."
Advertisement - story continues below
Biden defeated Trump in the 2020 presidential election, securing 306 electoral votes to Trump's 232.
As he faces criticism over the execution of the withdrawal from Afghanistan and a surge in new COVID-19 cases, Biden's approval numbers have dipped.
Do you want Trump to run in 2024?
FiveThirtyEight's average of polls finds that 46.2% of respondents approve of his job performance while 48.3% say they disapprove.
Meanwhile, RealClearPolitics' average of polls finds that 45.7% of voters approve of his performance while 49.1% disapprove.
Trump has not revealed whether he plans to run again, but several of his allies and confidantes believe he will jump into the race.
Truth and Accuracy
We are committed to truth and accuracy in all of our journalism. Read our editorial standards.
Comment Down Below
Conversation