News
Alert: NY Lt. Governor Arrested on Federal Bribery Charges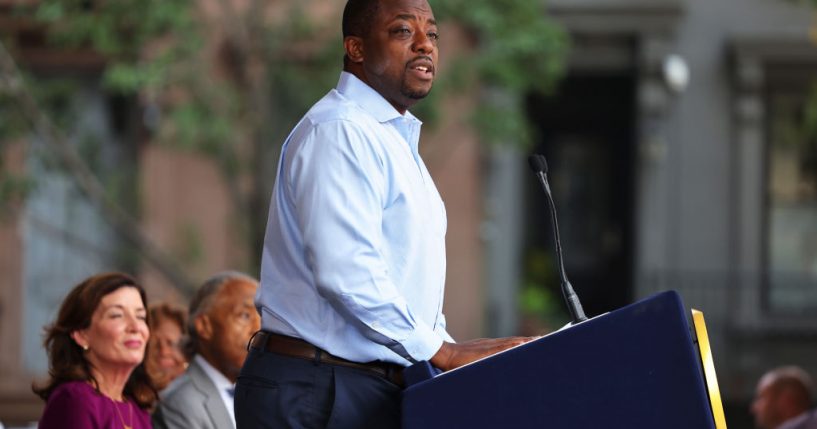 The second-highest-ranking official in New York has been arrested on federal bribery charges.
New York Lt. Gov. Brian Benjamin (D) surrendered to law enforcement on Tuesday morning as he was facing a federal indictment, according to The New York Times.
The Times reports, "The indictment, the result of an investigation by the F.B.I. and the U.S. attorney for the Southern District of New York, accused Mr. Benjamin of conspiring to direct state funds to a Harlem real estate investor in exchange for orchestrating thousands of dollars in illegal campaign contributions to Mr. Benjamin's unsuccessful 2021 campaign for New York City comptroller."
Advertisement - story continues below
Breaking News: Brian Benjamin, New York's lieutenant governor, was arrested in connection with a scheme to funnel fraudulent donations to a prior campaign. https://t.co/eux4n1r8Nq

— The New York Times (@nytimes) April 12, 2022
Benjamin ascended to the position after New York Gov. Kathy Hochul (D) became governor in August following the resignation of former Gov. Andrew Cuomo (D) amid allegations of sexual harassment.
As one of her first acts as governor, Hochul selected Benjamin to be the new lieutenant governor.
State Sen. Dan Stec (R) reacted to the news of Benjamin's arrest in a statement.
Advertisement - story continues below
He said, "Governor Hochul could have selected ANYONE as her running mate. Instead, she stood by and recently reaffirmed her support for a Lieutenant Governor that's now been indicted on federal bribery charges and soliciting campaign donations in exchange for state grants."
"This is yet another sign of the Governor's suspect judgment and the culture of corruption surrounding Albany Democrats," he continued.
Stec added, "New Yorkers deserve better than this endless cycle of indictments, investigations and corruption scandals."
The Times notes, "There is no suggestion that Ms. Hochul was aware of Mr. Benjamin's alleged criminal conduct, which prosecutors said occurred when he was a state senator."
"It is unclear how carefully Ms. Hochul or her advisers vetted Mr. Benjamin before the appointment," it added.
Advertisement - story continues below
His arrest could complicate matters ahead of the June primary election.
According to the paper, "Even if he were to step down, he will likely remain on the ballot in June, when he faces two spirited primary challengers."
"Because Mr. Benjamin was designated as the Democratic Party's nominee for lieutenant governor, his name can only be removed at this point if he were to move out of the state, die or seek another office," it explained.
Benjamin reportedly recently told allies that he expected to be cleared of wrongdoing.
Advertisement - story continues below
Gerald Migdol, a Harlem real estate investor, allegedly gave thousands of dollars in fraudulent donations to Benjamin's campaign in 2019 — after the then-state senator filed to run for comptroller.
A grand jury indictment from November alleged that he made straw donations in the other individuals' names, such as his two-year-old grandchild.
According to the Times, "At the time, the prosecutors did not comment on Mr. Migdol's motive, or explicitly name Mr. Benjamin. But they said his scheme was designed to help the candidate tap into New York City's generous public campaign matching funds program and secure him tens of thousands of dollars in additional campaign cash."
Truth and Accuracy
We are committed to truth and accuracy in all of our journalism. Read our editorial standards.
Comment Down Below
Conversation