News
NYT Reporter Asks What Biden Has Been Doing in the Roughly '48 Hours' Between Public Appearances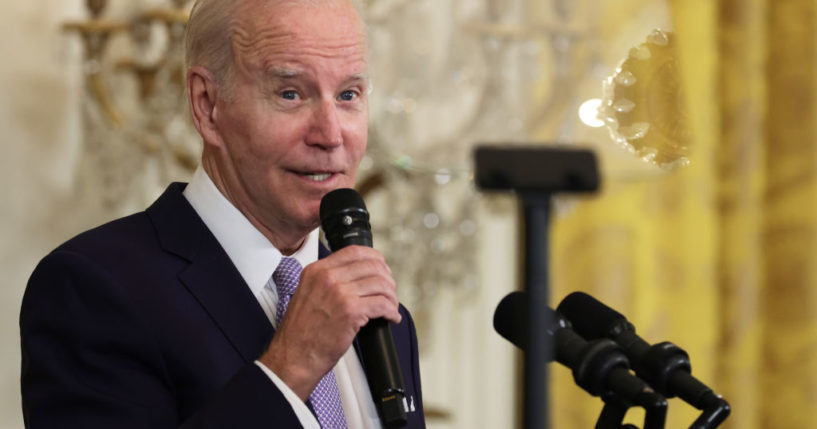 White House press secretary Karine Jean-Pierre is being asked to share what President Joe Biden has been doing in the roughly 48 hours between public appearances.
During a press briefing on Wednesday, The New York Times' Katie Rogers noted there will be nearly two days between Biden's public appearances.
She asked, "So what has he been doing in that time?"
Advertisement - story continues below
"He's been having internal meetings in the Oval Office," Jean-Pierre responded, adding, "I had a meeting with him earlier today with his senior advisers, senior staff, talking about the issues that matter to the American people."
She went on, "You'll see him later this evening. There'll be press available for the toast that the president is going to give. As you know, there will be a press avail at the top. And you'll get to see the president then."
Watch the video below:
NYT's @KatieRogers: "By the time the President appears at a dinner tonight, it will have been about 48 hours since he's had a public appearance, so what has he been doing in that time?"

KJP: "He's been meeting with–having internal meetings in the Oval Office pic.twitter.com/4ARQ2s1e1S

— Curtis Houck (@CurtisHouck) May 3, 2023
Advertisement - story continues below
The question comes as Biden has officially announced his re-election campaign.
He would be 86 at the end of a second term.
However, a CBS News poll released last week found Democratic voters are concerned about the president's age.
On Friday, Axios reported, "Biden's close advisers say he's mentally sharp. But even some of them concede his age has diminished his energy, significantly limiting his schedule."
It added White House staffers are "amazed at Biden's stamina — often adding the caveat: 'for his age.'"
Advertisement - story continues below
"Some White House officials say it's difficult to schedule public or private events with the president in the morning, in the evening, or on weekends: The vast majority of Biden's public events happen on weekdays, between 10 a.m. and 4 p.m.," the report added.
Additionally, Axios noted that so far in 2023, Biden has held four events before 10 a.m., and a dozen public events after 6 p.m., which were "mostly dinners and receptions with foreign leaders or fundraisers."
And it added there have been "12 full weekends with no public events."
Biden's last public event was on Monday evening. And he is scheduled to attend a dinner for Combatant Commanders at 6:30 p.m. on Wednesday.
Advertisement - story continues below
Jean-Pierre sought to dismiss concerns about Biden's age as she told reporters last week, "When it comes to age, it's the same thing that we heard in 2020. Right? We heard that over and over in 2020."
"And if you look at what the president has done this past two years, he's been able to deliver and get things done," she added.
Truth and Accuracy
We are committed to truth and accuracy in all of our journalism. Read our editorial standards.
Comment Down Below
Conversation