Obama Calls on the US To 'Reimagine Policing' Following Fatal Shooting Of Daunte Wright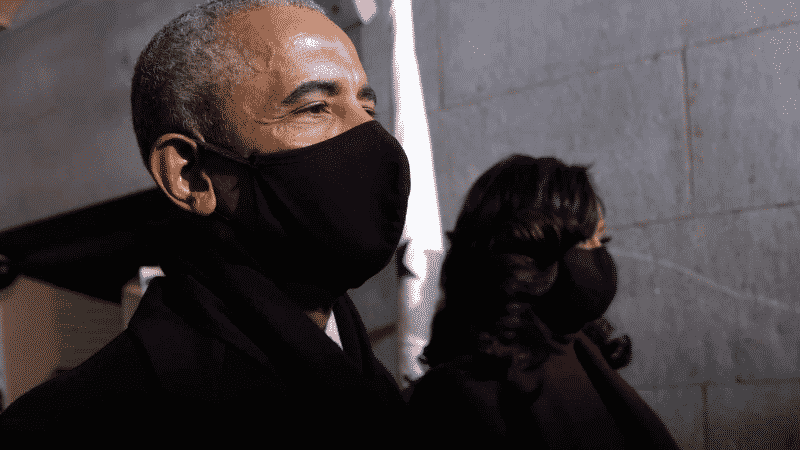 Former President Barack Obama says the fatal shooting of Daunte Wright, a Black man, by a police officer is another example of why the United States needs to "reimagine policing."
Obama said in a statement on Tuesday, "Our hearts are heavy over yet another shooting of a Black man, Daunte Wright, at the hands of police."
He continued, "The fact that this could happen even as the city of Minneapolis is going through the trial of Derek Chauvin and reliving the heart-wrenching murder of George Floyd indicates not just how important it is to conduct a full and transparent investigation, but also just how badly we need to reimagine policing and public safety in this country."
Read his statement below:
Our hearts are heavy over yet another shooting of a Black man, Daunte Wright, at the hands of police. It's important to conduct a full and transparent investigation, but this is also a reminder of just how badly we need to reimagine policing and public safety in this country. pic.twitter.com/sgcbRjlApr

— Barack Obama (@BarackObama) April 13, 2021
Obama went on to explain, "Michelle and I grieve alongside the Wright family for their loss. We empathize with the pain that Black mothers, fathers, and children are feeling after yet another senseless tragedy."
The former president vowed to "continue to work with all fair-minded Americans to confront historical inequities and bring about nationwide changes that are so long overdue."
Others have voiced their opposition to policing, including Rep. Rashida Tlaib (D-Mich.), as IJR reported.
"It wasn't an accident. Policing in our country is inherently and intentionally racist. Daunte Wright was met with aggression [and] violence. I am done with those who condone government funded murder," Tlaib tweeted on Monday.
She continued, "No more policing, incarceration, and militarization. It can't be reformed."
Senate Majority Whip Dick Durbin (D-Ill.) seemingly pushed back on Tlaib's statement, as IJR reported.
"We know, the bottom line here, we do need law enforcement in this country for safety and security in our homes and our neighborhoods and our cities," he said during an appearance on CNN.
Durbin went on, "But we must demand of law enforcement with all the par that is given to an individual officer that this type of racial conduct be purged from law enforcement."
He told CNN things "can change" following the shooting of Wright, and the "cumulative experience that we are seeing" is "really a call to action."
Former Speaker of the House Newt Gingrich (R) warned during an appearance on Fox News on Monday it is a "very dangerous time" in the nation with what he believes are increased efforts to "weaken the police."