News
AOC 'Inclined' To Agree Supreme Court Justice Breyer Should Retire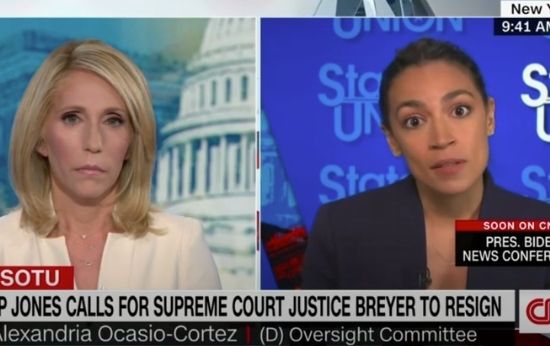 Rep. Alexandria Ocasio-Cortez (D-N.Y.) is weighing in on whether Justice Stephen Breyer should retire from the Supreme Court at the end of his current term.
The lawmaker was asked about pressure for Breyer, 82, to retire so that President Joe Biden and a slim Democratic majority in the Senate could fill the seat with someone younger.
On if Breyer should retire, Ocasio-Cortez said during Sunday's CNN "State of the Union" interview, "You know, it's something I think about, but I would probably lean towards yes."
Advertisement - story continues below
She added, "I would give more thought to it, but I'm inclined to say yes."
Watch Ocasio-Cortez's interview below:
Her remarks come after Rep. Mondaire Jones (D-N.Y.) previously called on Breyer to retire from the Supreme Court.
Advertisement - story continues below
"There's no question that Justice Breyer, for whom I have great respect, should retire at the end of this term," Jones told Cheddar News. "My goodness, have we not learned our lesson?"
He added, "I'm really excited about the opportunity for President Biden to appoint and for the Senate to confirm jurists on the Supreme Court who are not hostile to our democracy and will adjudicate cases that will protect and preserve voting rights and will respect the will of Congress, frankly."
Both Ocasio-Cortez and Jones co-sponsor a bill that seeks to add four justices to the Supreme Court. However, House Speaker Nancy Pelosi (D-Calif.) does not plan to bring it to the floor for a vote, per CNN.
The remarks come amid worry that if Breyer does not retire while a Democrat is president that his seat may be filled by a Republican president.
Former President Donald Trump filled the Supreme Court vacancy after Justice Ruth Bader Ginsburg died. Trump nominated now-Justice Amy Coney Barrett. She was confirmed in October 2020, which created a 6-3 conservative majority on the Supreme Court.
Truth and Accuracy
We are committed to truth and accuracy in all of our journalism. Read our editorial standards.
Comment Down Below
Conversation