News
Ohio Law to Allow Teachers to Carry Guns With Minimal Training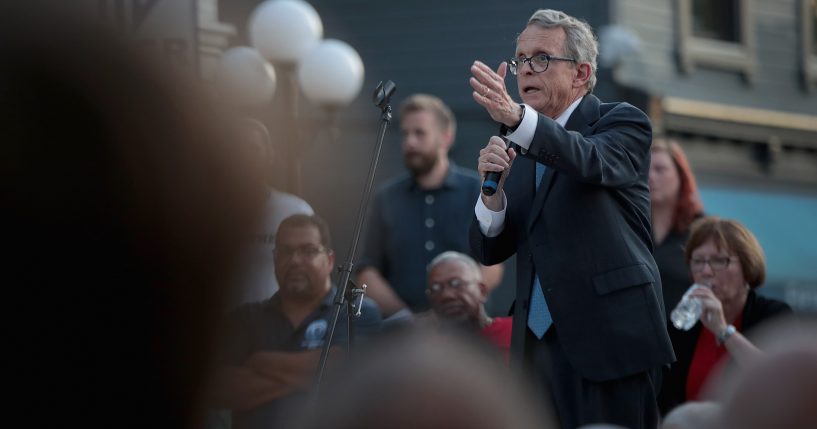 Ohio Gov. Mike DeWine (R) signed a bill into law making it easier for teachers to carry guns.
The New York Times reported the new law only requires teachers to undergo a maximum of 24 hours of training to carry guns at school.
Still, the local board will need to approve.
Advertisement - story continues below
DeWine said in a statement his office "worked with the General Assembly to remove hundreds of hours of curriculum irrelevant to school safety," and expressed appreciation for the Legislature "for passing this bill to protect Ohio children and teachers."
The governor explained the bill "does not require any school to arm teachers or staff."
He added, "Every school will make its own decision."
While delivering remarks Monday, DeWine noted the bill "was in development well before the recent tragedy in Texas."
Advertisement - story continues below
Still, he said, "That heartbreaking school shooting certainly, certainly increased urgency to enact it."
Watch DeWine's remarks below:
Do you support this bill?
Ohio Gov. Mike DeWine announced Monday that he signed a bill permitting teachers to carry guns to school. The bill requires only 24 hours of training if school districts opt into the new legislation.

Read more: https://t.co/okd1XT3KMs pic.twitter.com/DIOAxeQQ7y

— Newsweek (@Newsweek) June 13, 2022
A poll released earlier this month showed a majority of Americans believe arming teachers would make schools safer, as IJR reported.
The poll found 57.5% of respondents believe preventing teachers who are properly trained from carrying firearms makes schools somewhat or much more dangerous.
Advertisement - story continues below
Only 30.8% believe the opposite is true.
Education Secretary Miguel Cardona commented on the issue of arming teachers during an appearance on "The View" last week, as IJR reported.
When asked about DeWine's bill, Cardona responded, "Those are some of the stupidest proposals I've heard in all my time as an educator. So that's my answer to that."
He added, "Listen, we need to make sure we're doing sensible legislation, making sure our schoolhouses are safe as much as possible. But to say that we're going to arm teachers to protect students, what happens when a teacher goes out on maternity leave? Are we going to give the substitute of the day a gun."
Advertisement - story continues below
Concluding his remarks, Cardona said, "What this shows, Sunny, is that some people are clueless when it comes to what's happening in our schools, and it just shows further disrespect to a profession that has bent over backwards these last two years to protect students and give them an opportunity for an education."
Truth and Accuracy
We are committed to truth and accuracy in all of our journalism. Read our editorial standards.
Comment Down Below
Conversation