News
Omar Responds to McCarthy's Vow to Remove Her From Committee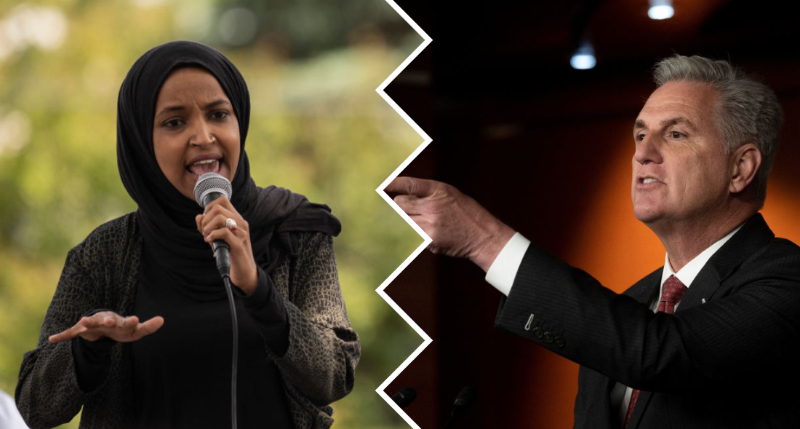 Rep. Ilhan Omar (D-Minn.) is firing back at House Minority Leader Kevin McCarthy (R-Calif.) for vowing to strip her of her committee assignment.
In a statement on Monday, Omar said, "From the moment I was elected, the Republican Party has made it their mission to use fear, xenophobia, Islamophobia and racism to target me on the House Floor and through millions of dollars of campaign ads."
"Whether it is Marjorie Taylor Greene holding a gun next to my head in campaign ads or Donald Trump threatening to 'send me back' to my country (despite the fact that I have been a proud citizen of the United States for more than 20 years), this constant stream of hate has led to hundreds of death threats and credible plots against me and my family," she continued.
Advertisement - story continues below
The Minnesota Congresswoman accused McCarthy of declining to "address the open hostility towards religious minorities in his party" and "lifting up people like Marjorie Taylor Greene" instead.
Read the statement below:
.@IlhanMN statement on Kevin McCarthy's threats against her. pic.twitter.com/UxAXrvytWy

— Jeremy Slevin (@jeremyslevin) November 21, 2022
She added, "McCarthy's effort to repeatedly single me out for scorn and hatred — including threatening to strip me from my committee — does nothing to address the issues our constituents deal with. It does nothing to address inflation, healthcare, or solve the climate crisis."
Advertisement - story continues below
McCarthy appeared on Fox Business on Sunday and was asked if he would make good on his vow to strip several prominent Democrats of their committee assignments.
"Yes, I will, I'll keep that promise," he responded. "One thing I said from the very beginning, Eric Swalwell cannot get a security clearance in the public sector. Why would we ever give him a security clearance and the secrets to America? So I will not allow him to be on Intel."
Do you think Omar should be removed from her committee?
He continued:
"You have Adam Schiff who has lied to the American public time and again. We will not allow him to be on Intel either. And Congresswoman Ilhan Omar [with] her antisemitic comments that have gone forward, we're not going to allow her to be on Foreign Affairs."
Watch the video below:
Advertisement - story continues below
Kevin McCarthy says on Fox News that as Speaker he plans to prevent Ilhan Omar, Adam Schiff, and Eric Swalwell from serving on committees pic.twitter.com/gekzYBRXSj

— Aaron Rupar (@atrupar) November 20, 2022
McCarthy's pledge to remove Omar as well as Reps. Adam Schiff (D-Calif.) and Eric Swalwell (D-Calif.) from their committee assignments come after Republicans were projected to win control of the House.
But he may run into difficulties in trying to fulfill his promise involving Omar.
As Axios noted, McCarthy tweeted his vow involving Omar. But Twitter affixed an "added context" label to the post which stated the House speaker "does not have the power to remove a member from a standing committee. Foreign Affairs is a standing committee."
Advertisement - story continues below
"Only a majority vote by the entire House could remove Rep. Omar," it added.
Truth and Accuracy
We are committed to truth and accuracy in all of our journalism. Read our editorial standards.
Comment Down Below
Conversation