News
'With My Own Paw': Biden Recalls Writing Infrastructure Bill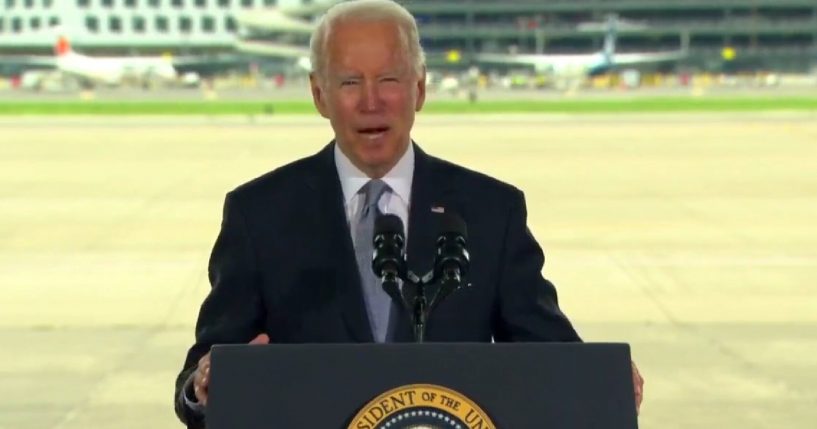 President Joe Biden reflected on his time writing the infrastructure bill, claiming he did so with his "own paw."
While delivering remarks in Portland, Oregon, on Thursday, Biden said, "As I said earlier, through the Bipartisan Infrastructure bill — which I might add, I wrote the original one with my own paw; I wrote it."
He added, "Sat down and wrote it because I was convinced there was no other answer other than beginning to invest in our country again."
Advertisement - story continues below
Watch his comments below:
Biden claims he "sat down and wrote" the "original" infrastructure bill with his "own paw" pic.twitter.com/ibbqvOUFLx

— RNC Research (@RNCResearch) April 21, 2022
While delivering remarks, Biden celebrated the United States investing "$25 billion this year to modernize American airports all across this country and across this state, not just here."
He continued, "And that includes $211 million this year in Oregon, $42 million being delivered this year alone — not just to modernize PDX but for 50 additional airports across Oregon, because you've got more than one, as you all know."
Advertisement - story continues below
Biden noted that is in addition to the $20 million invested in PDX in 2021.
Earlier in his remarks, Biden said, "It bothers the heck out of me that there's this belief that we can't do big things anymore. But we can. We're proving we can. And we must build a better America. And a good place to start is right here in Portland."
He added, "Folks, look, Portland International Airport is a perfect example of both the need and the opportunity and the ability to make progress. I don't have to tell you that it's an essential economic engine for the entire region, not just Portland."
Additionally, the president explained across Oregon, "We're sending the message: These ports and airports are open for more business. And we're seeing — and we're sending the same message — the same message about your roads and your bridges."
The Senate passed the $1 trillion infrastructure bill in August 2021.
Truth and Accuracy
We are committed to truth and accuracy in all of our journalism. Read our editorial standards.
Comment Down Below
Conversation