IJR
Pelosi Has 6 Words for Biden After He Joked About 'Maybe Future President' Trump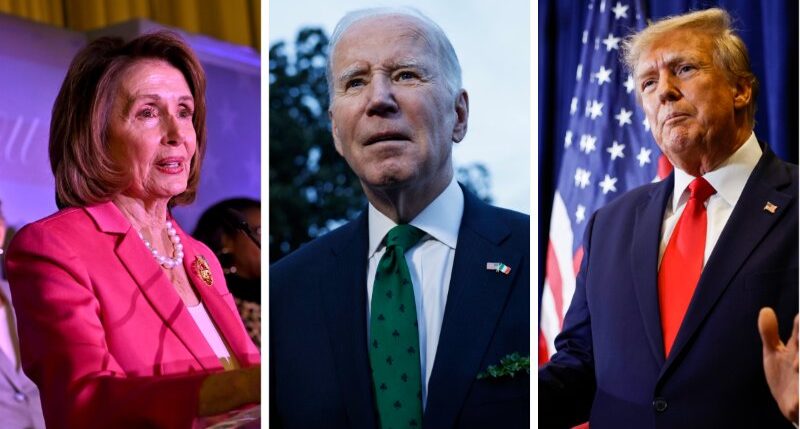 Former House Speaker Nancy Pelosi (D-Calif.) issued her response to President Joe Biden's suggestion that former President Donald Trump could take the White House again.
Pelosi made the comment during an interview with Los Angeles Times reporter Nolan McCaskill.
"Oh, please. Don't even say such a thing," Pelosi said.
Advertisement - story continues below
She added, "That isn't kidding. That's horrible."
Earlier this month, Biden said during a speech, "I had a big fight with the former president and maybe future president — bless me, Father."
In case you missed it:
JUST IN 🚨Former president Donald Trump "may be the future President," says current President Biden pic.twitter.com/InkZnrWKrr

— Insider Paper (@TheInsiderPaper) March 9, 2023
Advertisement - story continues below
The president delivered the speech as part of his presentation of his budget proposal.
Pelosi mentioned another part of the speech during which Biden alluded to Rep. Marjorie Taylor Greene (R-Ga.).
"He's going to raise her a million dollars by mentioning her name," Pelosi said after Biden called Greene "the gentlelady from Georgia," as the Times reported.
The Associated Press pointed out the posts circulating on social media including Biden's remark were missing context.
The outlet explained Biden was speaking about a "disagreement he had with Trump and referred to him as 'the former president and maybe future president,' immediately saying 'bless me, Father,' before acknowledging he was 'kidding.'"
Advertisement - story continues below
Trump's 2024 run comes as he faces potential indictment over his hush-payments to porn star Stormy Daniels.
Alex Conant, a Republican strategist who previously worked with Marco Rubio in 2016, spoke with Axios about how Trump's campaign looks different than that of 2016.
"In 2016, his campaign was basically his family and a handful of operatives who wouldn't have gotten hired by any of the other campaigns. In 2020, it was an extension of the White House, which itself was a disordered mess," Conant told the outlet.
He continued, "This time around, he's hired some real professionals and understands that the only way he wins the nomination for a third time is by running a very disciplined campaign that can't afford to lose anywhere."
Advertisement - story continues below
The New York Times reported there are some Trump allies that believe "becoming the first former president to face criminal charges would carry a political upside" for him.
The newspaper also pointed out Trump has "skillfully persuaded many supporters to metabolize critiques from opponents, investigations by law enforcement and impeachments by Congress as deeply personal attacks on them."
Truth and Accuracy
We are committed to truth and accuracy in all of our journalism. Read our editorial standards.
Comment Down Below
Conversation